Here we are again, and one month closer to Renegade Red's release! Yay! Thank you for all your entries in this giveaway and, as always, I appreciate all the ways you continue to help spread the word about The Light Trilogy. There have been a lot of big announcements this month, you can now pre-order your copy of Renegade Red, the Renegade Red Jewelry by Zoe Cope is now available, and you can sign up to be a part of the Renegade Red Blog Tour which gives you a chance to receive an Advance Release Copy (ARC) of Renegade Red, and automatically enters you to win some awesome bookish prizes! Be sure to stay tuned on my social outlets, as well as the LIGHT LETTER to ensure you are getting all this info first!
The #YearOfTheRenegade giveaway has come to an end, but get ready for the BRAND NEW #BackToBlue Read-a-long  & giveaway…because it STARTS NOW! This new giveaway is going to run throughout all of February. This Shattered Blue read-a-long is the perfect way for new readers and re-readers alike to prepare for Renegade Red NEXT MONTH! The extra bonus is it will be set up like our very own book club where each week you can join in the reading prompt conversations on my Facebook/Instagram/Twitter so we can discuss together as you are reading! The more you participate the more chances of winning a slew of prizes! More on that in a few, first let's congratulate the WINNER of the #YearOfTheRenegade giveaway!
HUGE congrats to the GRAND PRIZE WINNER of the #YearOfTheRenegade giveaway…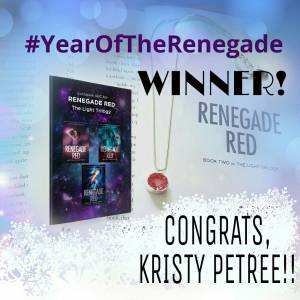 Kristy, please email me with your mailing address at thelighttrilogy@yahoo.com within 24 hours to claim your prizes.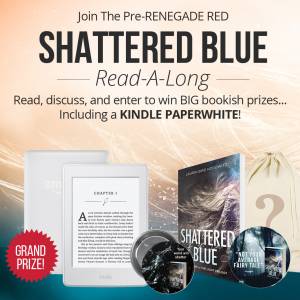 Didn't win this time? Don't worry! The BRAND NEW #BackToBlue Read-A-Long & Giveaway STARTS NOW! One lucky winner will get an ARC of Renegade Red loaded onto their BRAND NEW KINDLE PAPERWHITE! And MULTIPLE participants in the Read-A-Long will be winning Light Trilogy swag, so read and discuss with us to win throughout the month! As always, this giveaway is international and you can absolutely win again if you have won a separate giveaway in the past. This is another rafflecopter giveaway with lots of ways to win, so get those entries in early and often, and be sure to join in the weekly read-a-long discussions on my Facebook/Instagram/Twitter to talk about Shattered Blue as we read throughout the month. Participation in the weekly discussions give you even more opportunities to win some awesome Light Trilogy swag all through the month!
The #BackToBlue Read-A-Long & Giveaway is ready for your entries so start spreading the word now! Look out for the first #BackToBlue Read-A-Long post this weekend for all the details on joining in the fun! Best of luck and Fae Fortune to you all!
xoxo,
Bird