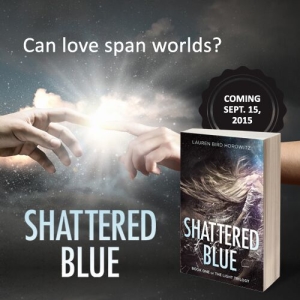 I can't believe it! Finally, finally, after so much time with these characters alive only for me, they have entered the world for everyone to meet! I could not be more excited, and hope you all love them the way that I do (even the 'bad' ones…). These last few weeks have been a whirlwind of getting ready for today, and I want to thank all the book bloggers and advanced reviewers who have already helped to spread the word about Noa, Callum, Judah, and the Light Trilogy.
I hope you all celebrate with me by entering my facebook contest on my author page Lauren "Birdaileen" Horowitz. We are giving away a digital camera, signed paperback, $50 giftcard, and THREE pieces of custom-made, Shattered-Blue inspired jewelry by the amazing Zoe Cope. Check out the page on her capsule collection in the Behind-the-Scenes section on this site. Not only is she including a 'Shattered Blue' piece from her Earthbound geode line, but she is also making a version of Noa's talisman and Lorelei's ring from the novel!
I am so grateful and excited and overwhelmed and happy. I hope you enjoy the world of Shattered Blue as much as I have, and I'm sending tons of love and aloha your way from Kauai. Mahalo for your support, and happy reading!