#NoaNovember was so popular, we at Team #ShatteredBlue have decided to do one more special December contest to celebrate this magical publication year! (As a reminder, the #SpreadTheWord giveaway for a $400 amazon gift card is still running, and you can refresh yourself on its easy rules at the bottom of this post.) So without further ado, we now introduce our brand new #HolidayFae Giveaway, running all month, and its merry holiday-goodies prize pack! And like our other giveaways, international entries welcome!
#HolidayFae Prizes:
A signed Shattered Blue, Noa's Talisman bracelet from the Zoe Cope Jewelry for Shattered Blue Capsule collection, a copy of the new ILLUSTRATED Harry Potter, 3 Funko Harry Potter action figures (Harry, Ron, and Hermione)… and a $100 gift card to celebrate the new year!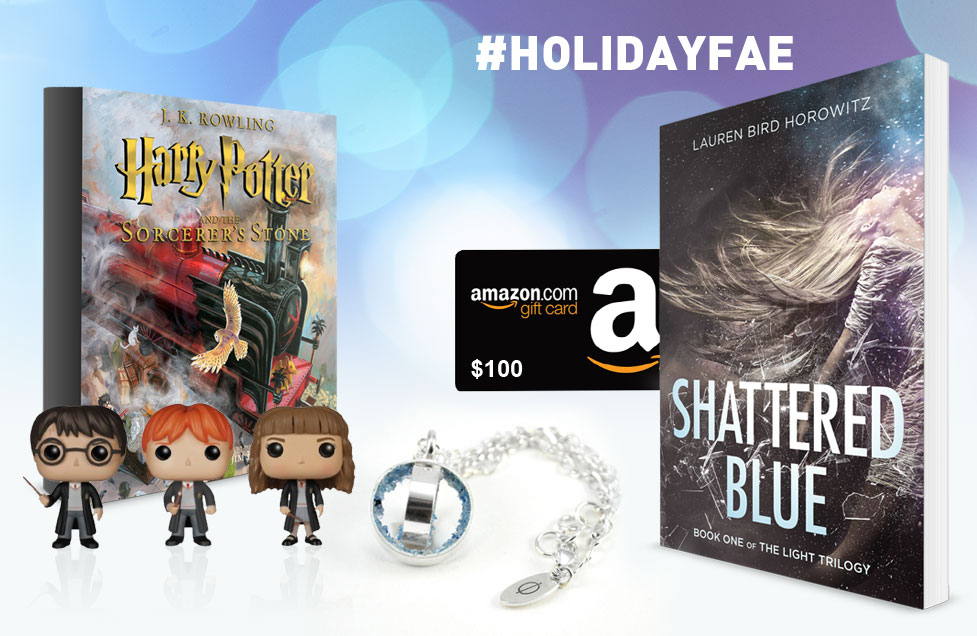 How to enter:
Entering is easy, and there are many ways to do it (some you can repeat every day to up your chances!). Just follow this rafflecopter link:
And….
Don't forget to keep entering the #SpreadTheWord contest, also running until the end of the month. A refresher:
#SpreadTheWord Prize:
A $400 Amazon gift card, a signed copy of Shattered Blue, a Shattered Blue poster & Shattered Blue bookmark
How to Enter:
1)grab one of my goodies and share it to twitter, instagram, or facebook, tagging me (IG: @birdaileen, t: @birdaileen, fb: Lauren Birdaileen Horowitz) and #ShatteredBlue, #SpreadTheWord
OR simply repost/regram/retweet any of the Shattered Blue graphics I post on my own channels!
2)follow me on the venue(s) you choose to make your posts (for facebook, 'like' the page Lauren Birdaileen Horowitz)
3) enter as many times as you like — up to three entries a day!
Happy holidays everyone! Good luck to all! And if you haven't already, leave me a comment somewhere to tell me what you thought of Shattered Blue!