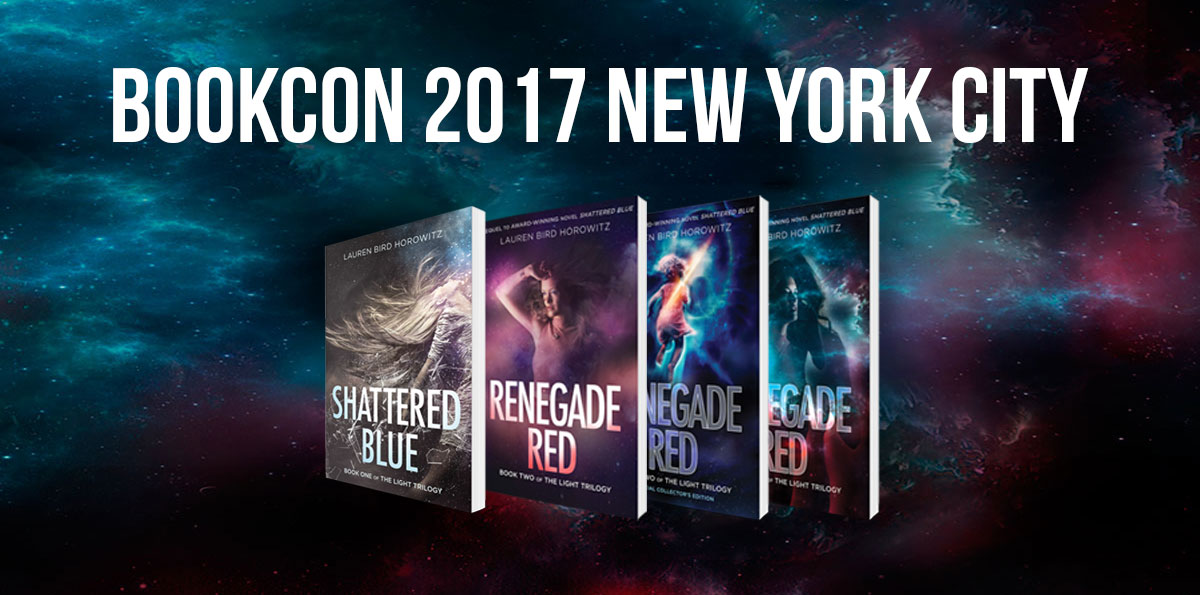 THE LIGHT TRILOGY'S BOOKCON BONANZA!
Did you know? This post went out as a newsletter to all our beloved Light Letter readers. You can sign up here and read any newsletters you may have missed here!
What a crazy BEA and BookCon for The Light Trilogy! Not only did we SELL OUT of every single item we brought—paperbacks, hardcovers, Light Trilogy jewelry (including off our own bodies!), and swag of all kinds—but #FaeNation grew with an explosion population of new and gorgeous readers! I loved meeting each and every one of you, seeing your fabulous hair, hearing about your hilarious Con adventures, and just talking books, books, books! I wanted to send out this little recap of all the Light Trilogy amazingness that went down, as a thank you from me to you, and a way to introduce all my new Pixies and Rebels to all of Fae Nation! You can also read about The Light Trilogy's amazing Con adventure in The Fictionist magazine here.
SEE THE LIGHT TRILOGY SELL OUT—IN LIVING VIDEO!
Check out the moment each item in our Light Trilogy inventory sold out—and meet the lucky new readers who snagged the final copies!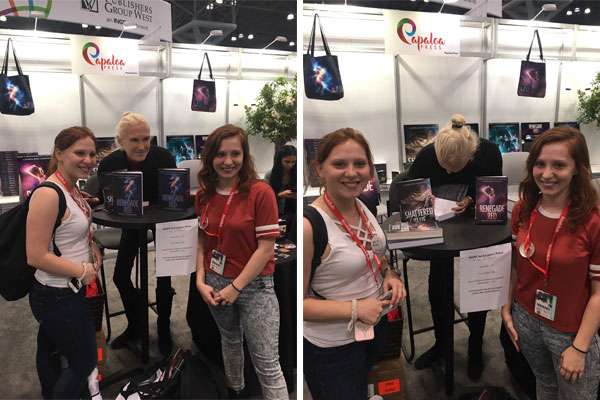 Morgan and Megan received the LAST TWO Travelers copies at BookCon.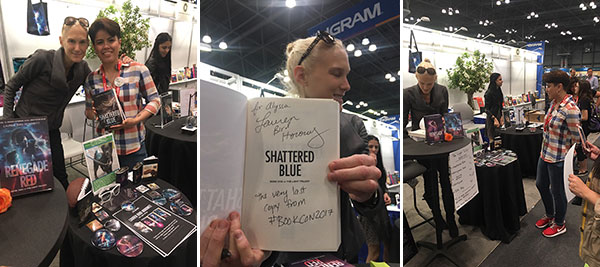 Alyssa received the LAST COPY of Shattered Blue from BookCon.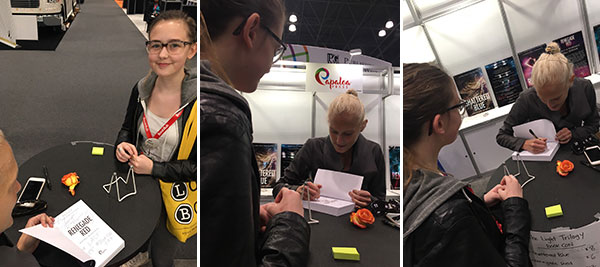 Kelsey received the last copy of Renegade Red. She's a New York native from the upper West side. 
MEET THE NEW MEMBERS OF #FAENATION!
You all were so amazing—welcome to #Callum'sPixies, #Judah'sRebels, and just #FaeNation in general everyone! We'd love to see you with your books in your corner of the world. Take a pic with your new books and send it to me at thelighttrilogy@yahoo.com, post it on social media, or put it right on our #FaeNation map here and we will repost and tag you on social!
Without further ado, welcome…..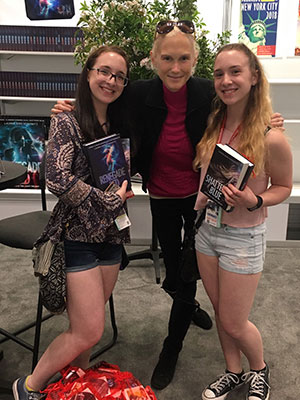 First Traveler sale: @kaitlyn_dana on the left and @courtneyydana on right. They are twins!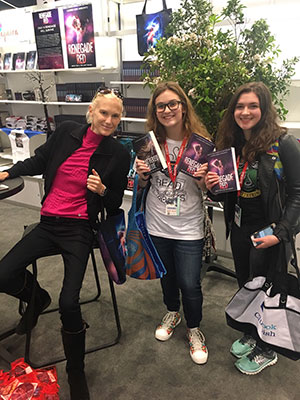 @noveldepictions @herbooktography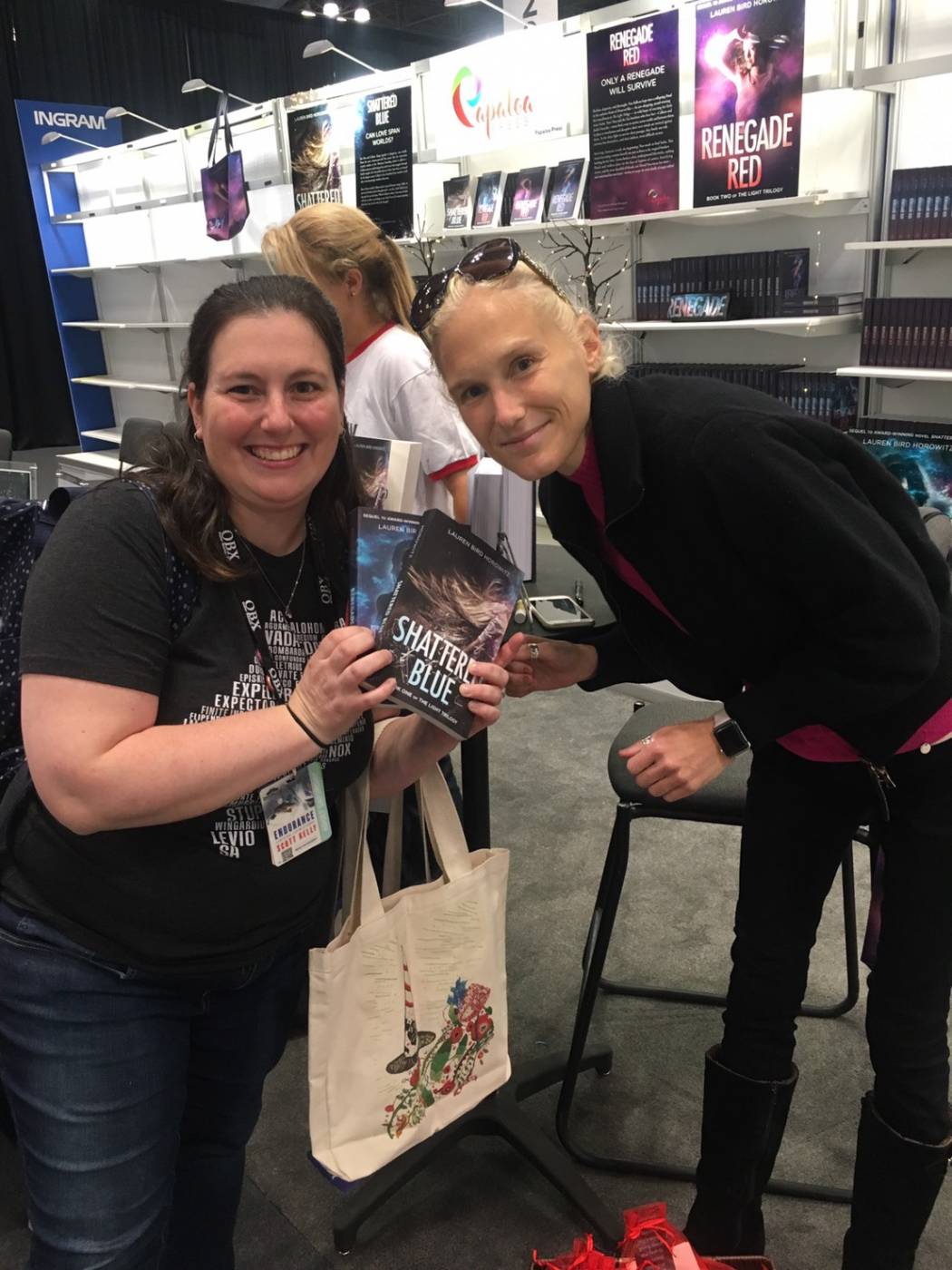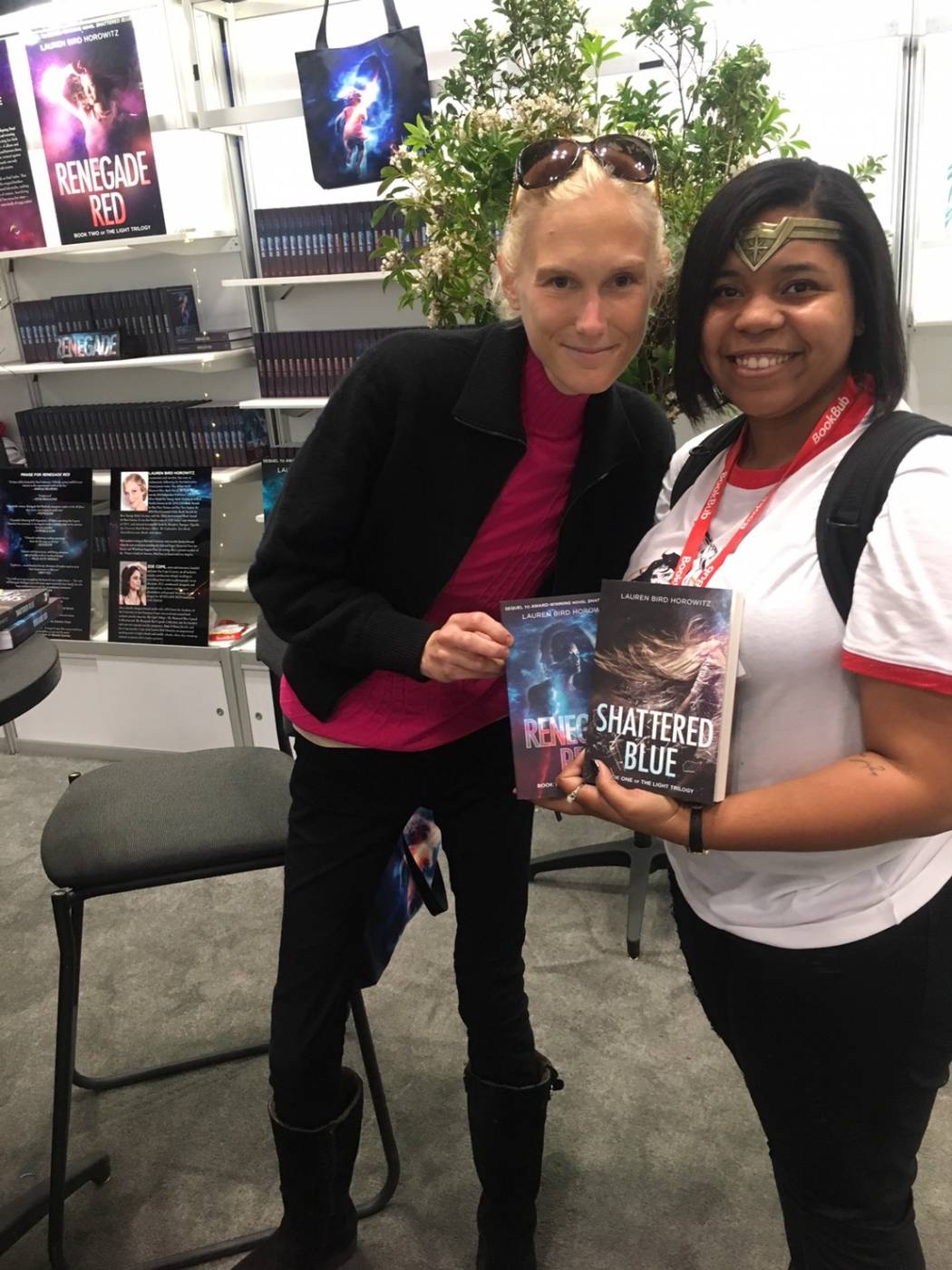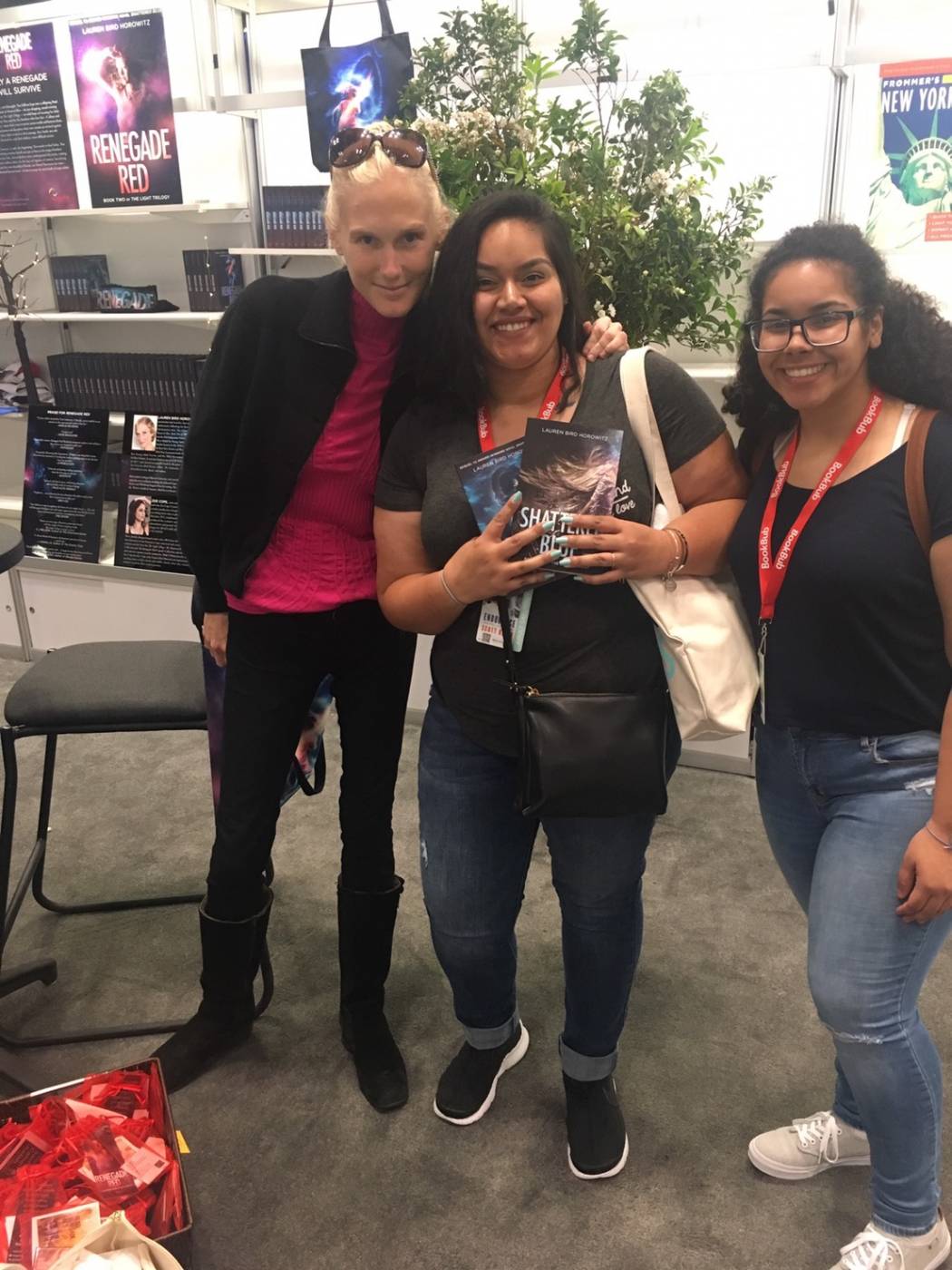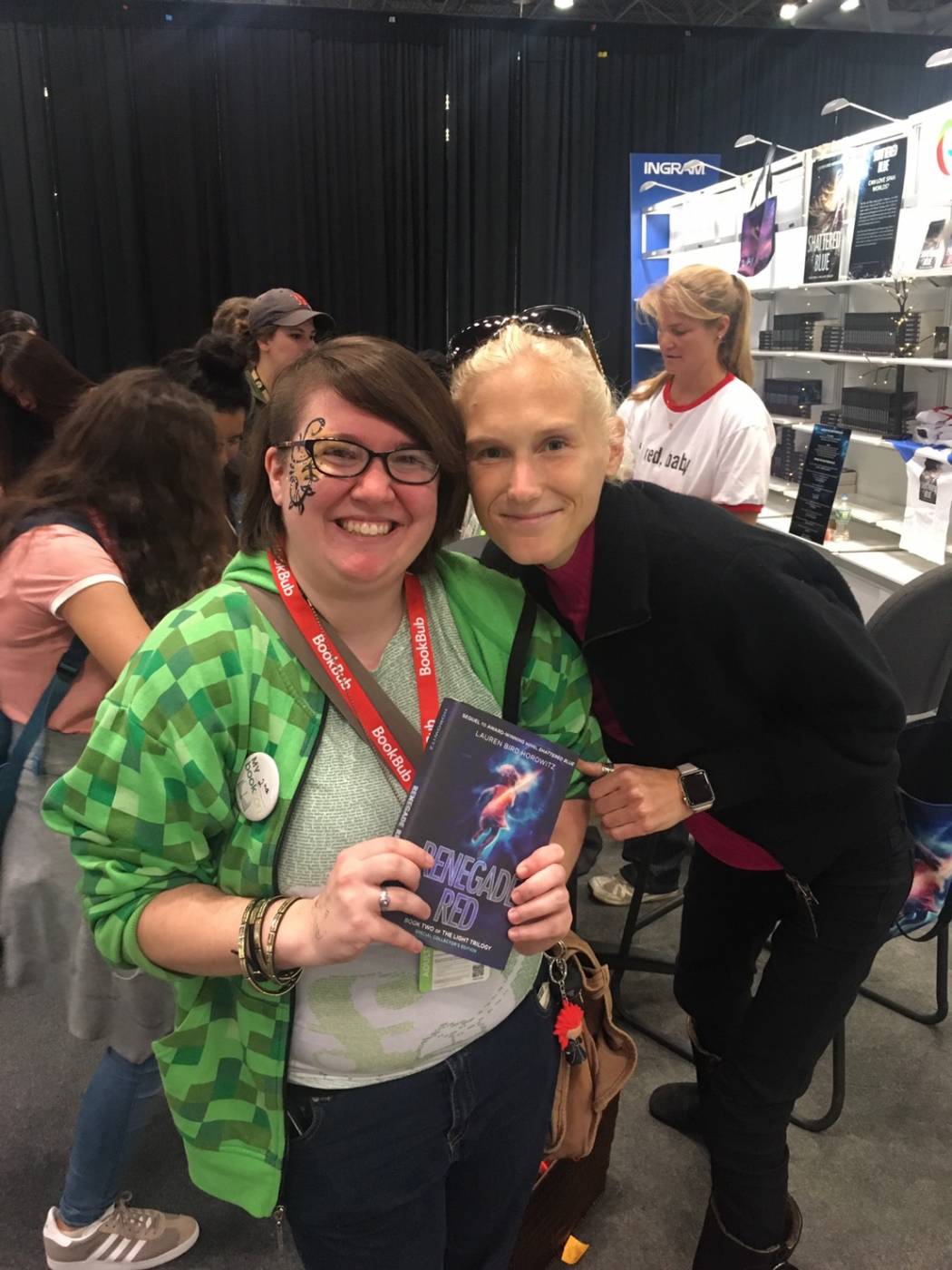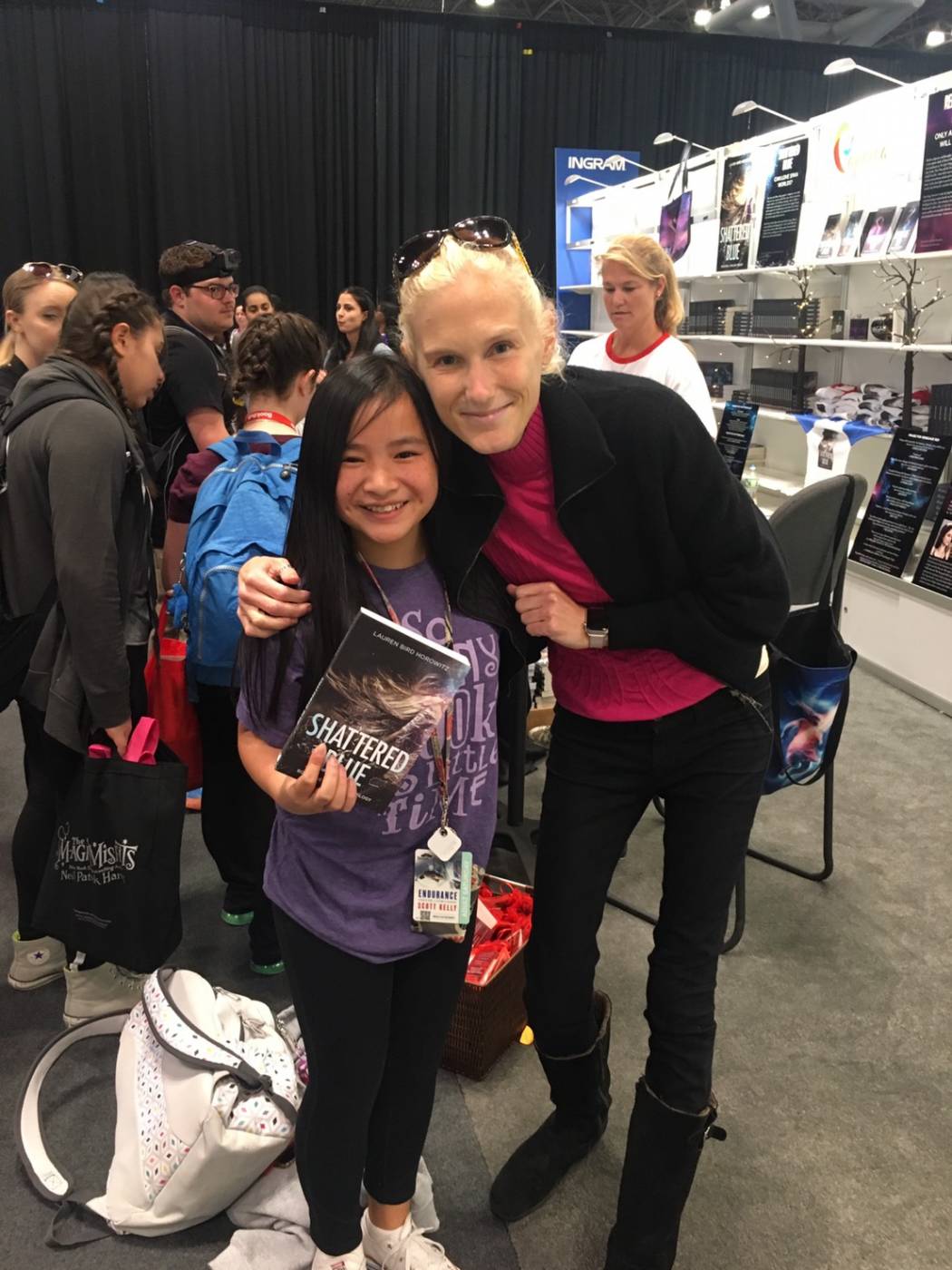 Annika from Oklahoma all the way out here for the con.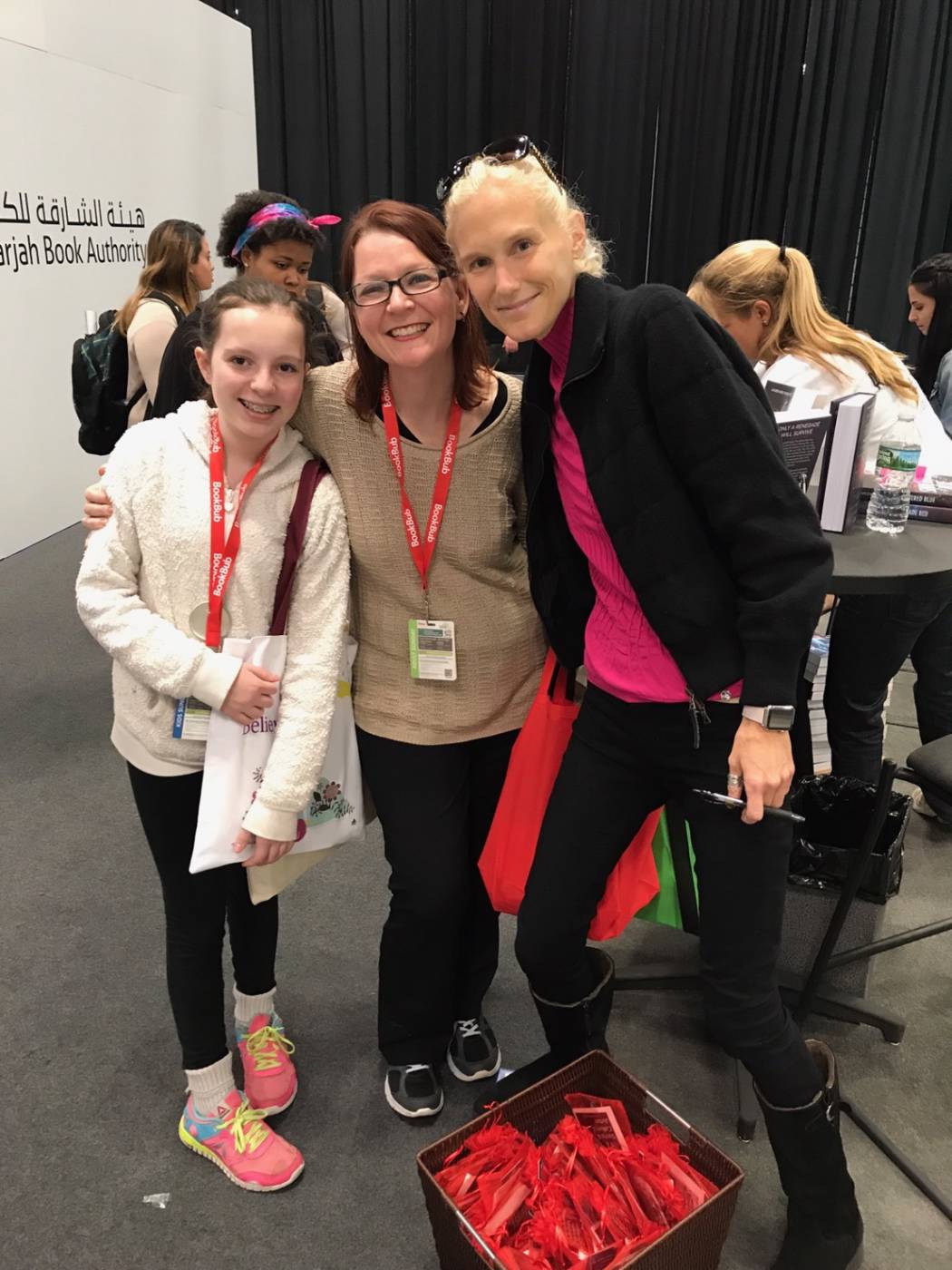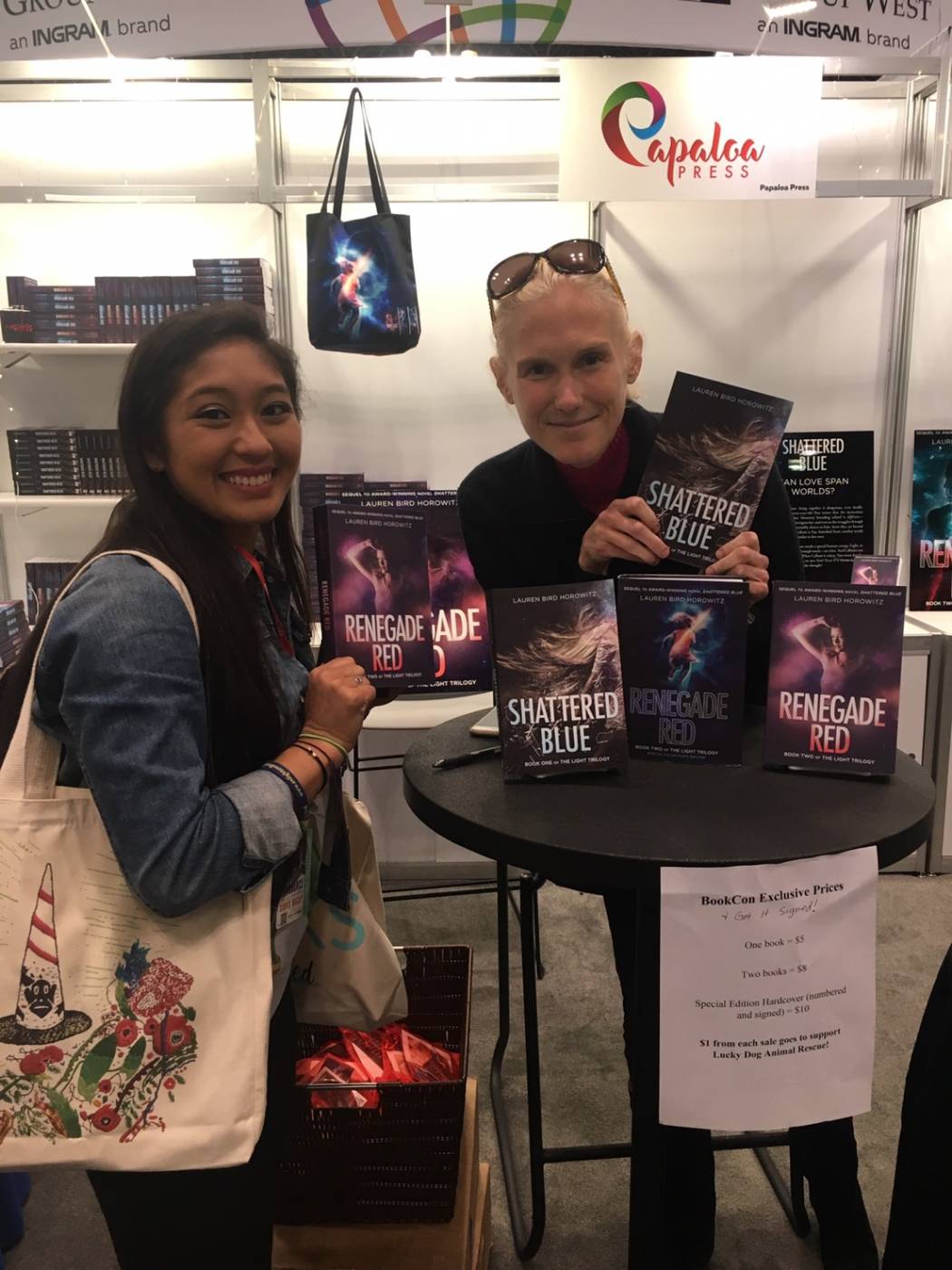 @aubreytabaco from Long Island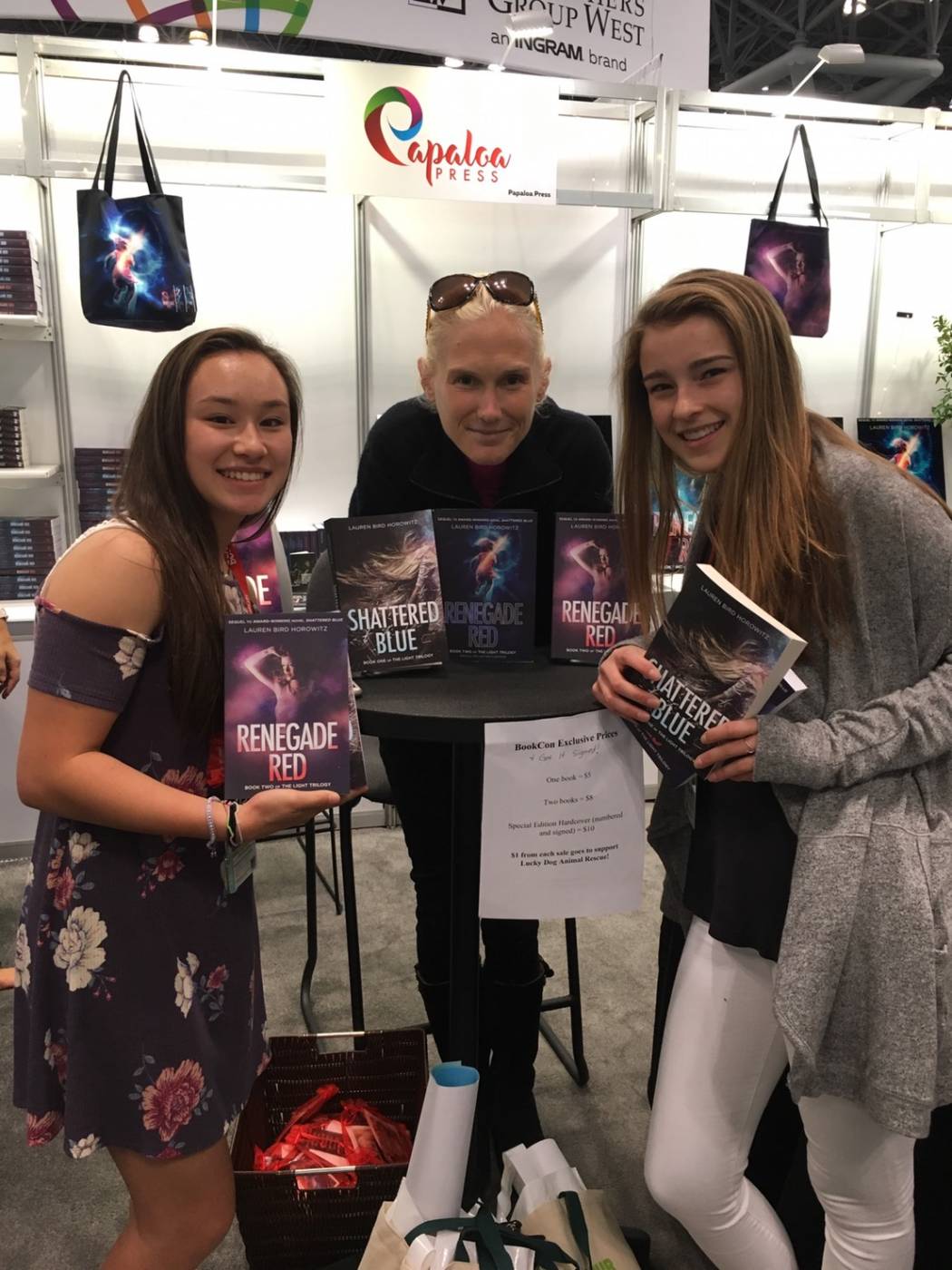 @emmaalehmann and @mikayla.horrath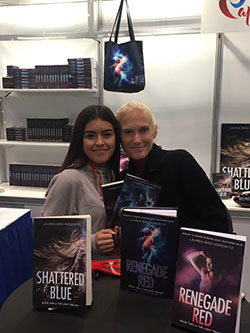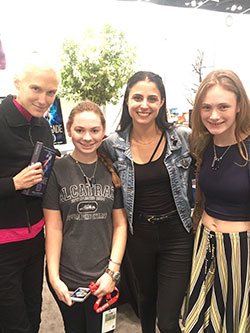 @gigi_grey4 is in the gray shirt and both girls are rocking the captured light charm necklaces by Zoe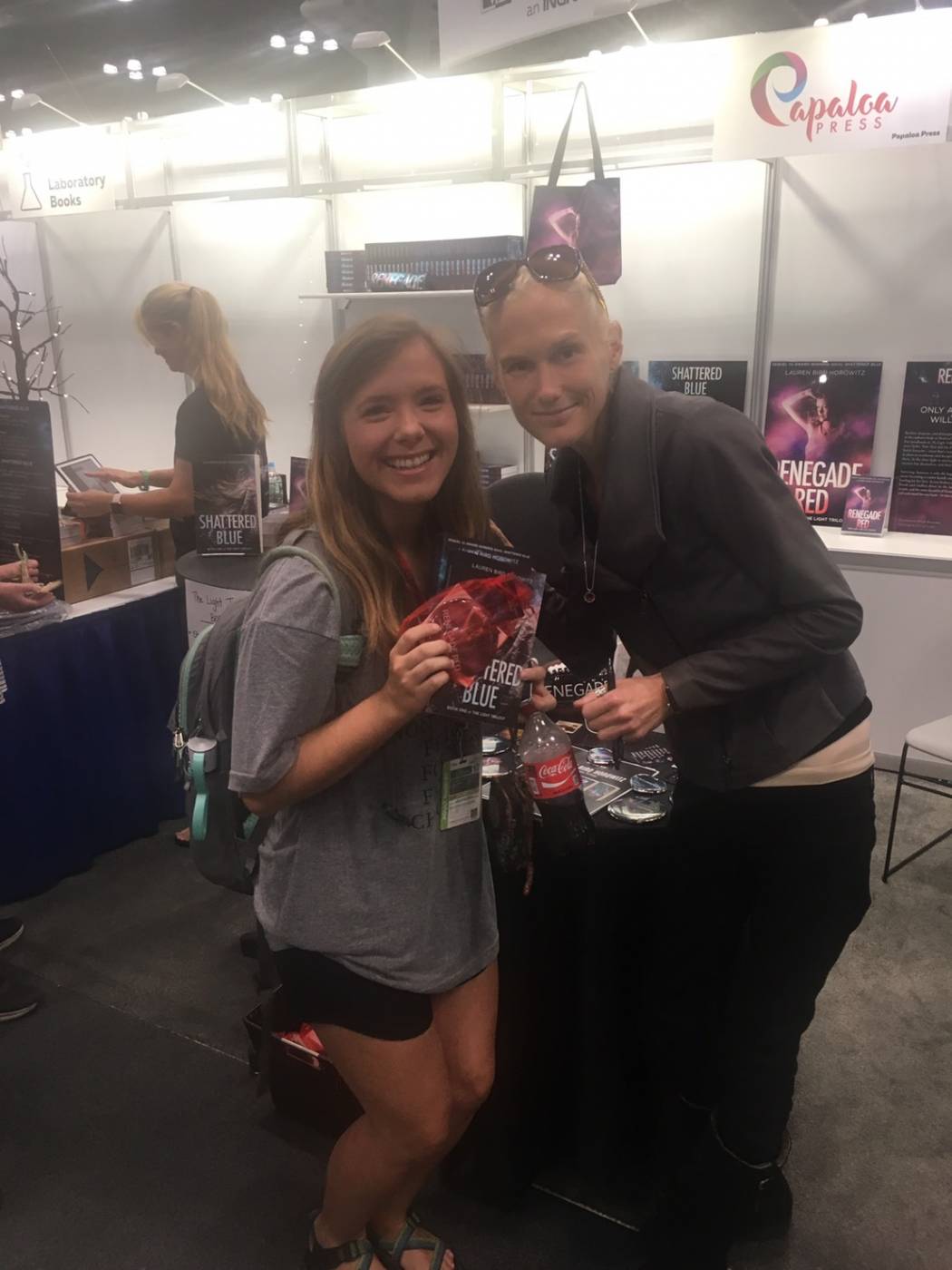 This is Brooke! First sale of day 2 of BookCon @booked.brooke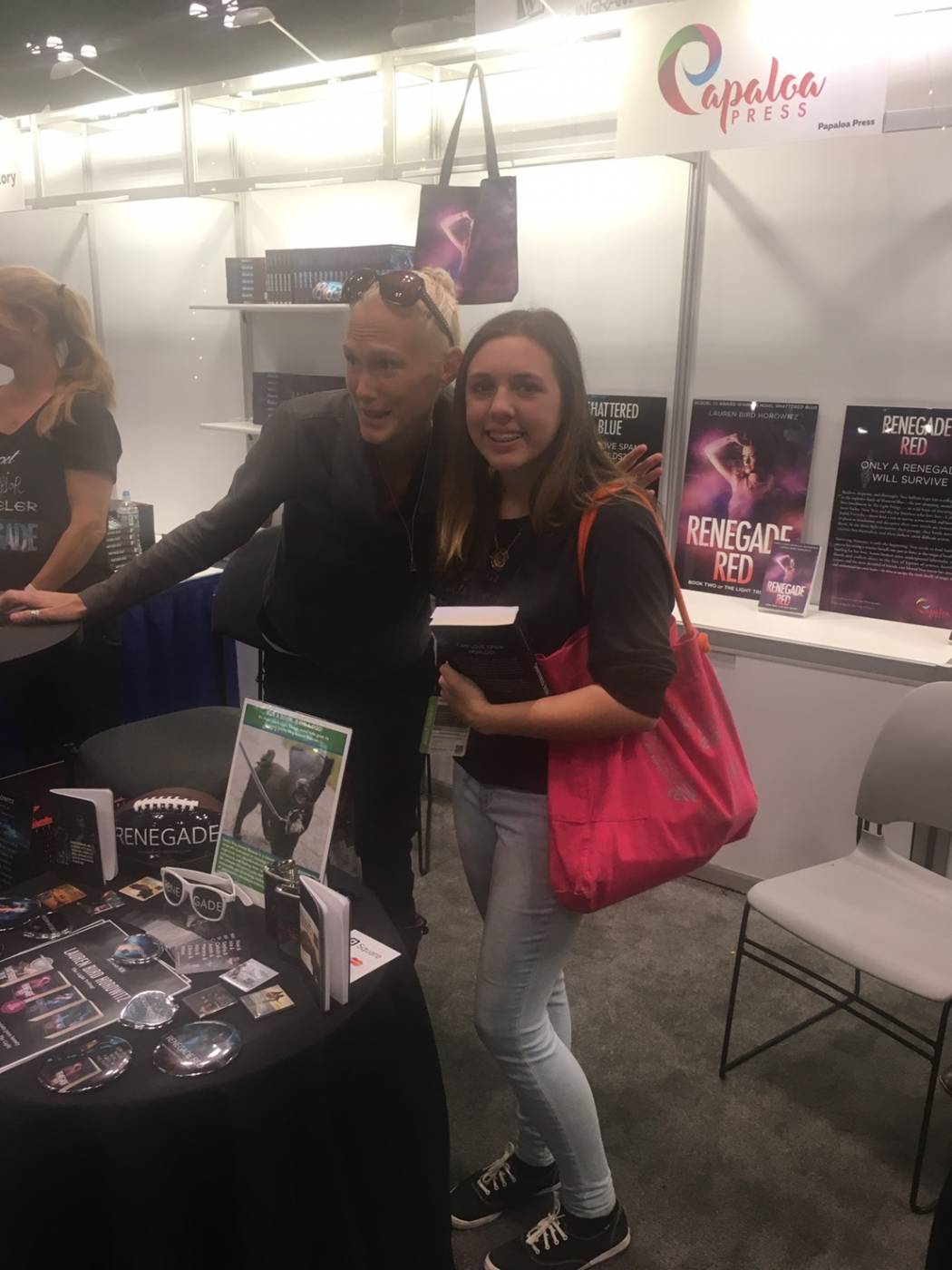 @kayla.toris from NJ and loves meeting authors in person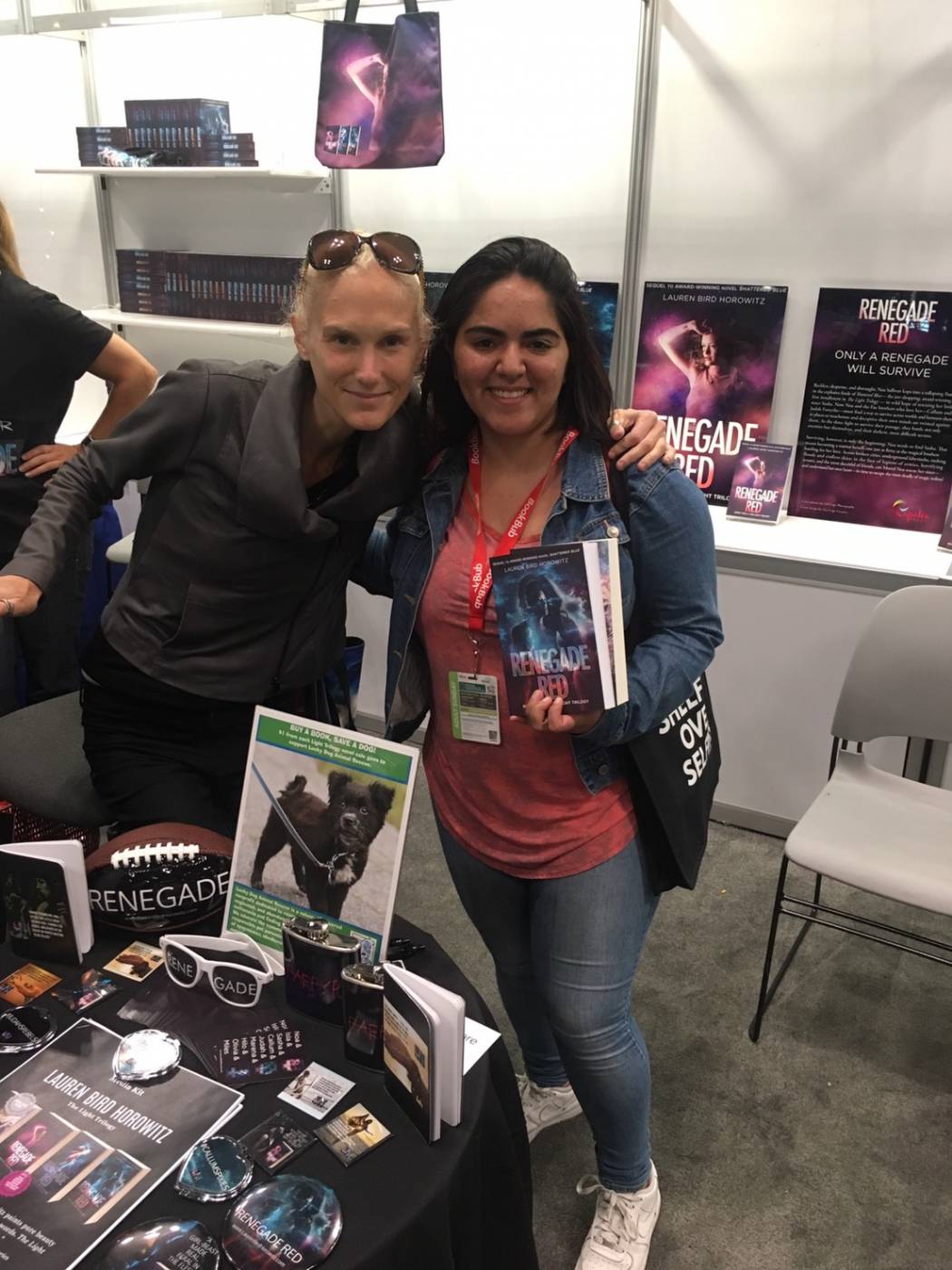 This is @x.rena.p from Brooklyn – she loves meet everyone and reading – says she reads at least 100 books a year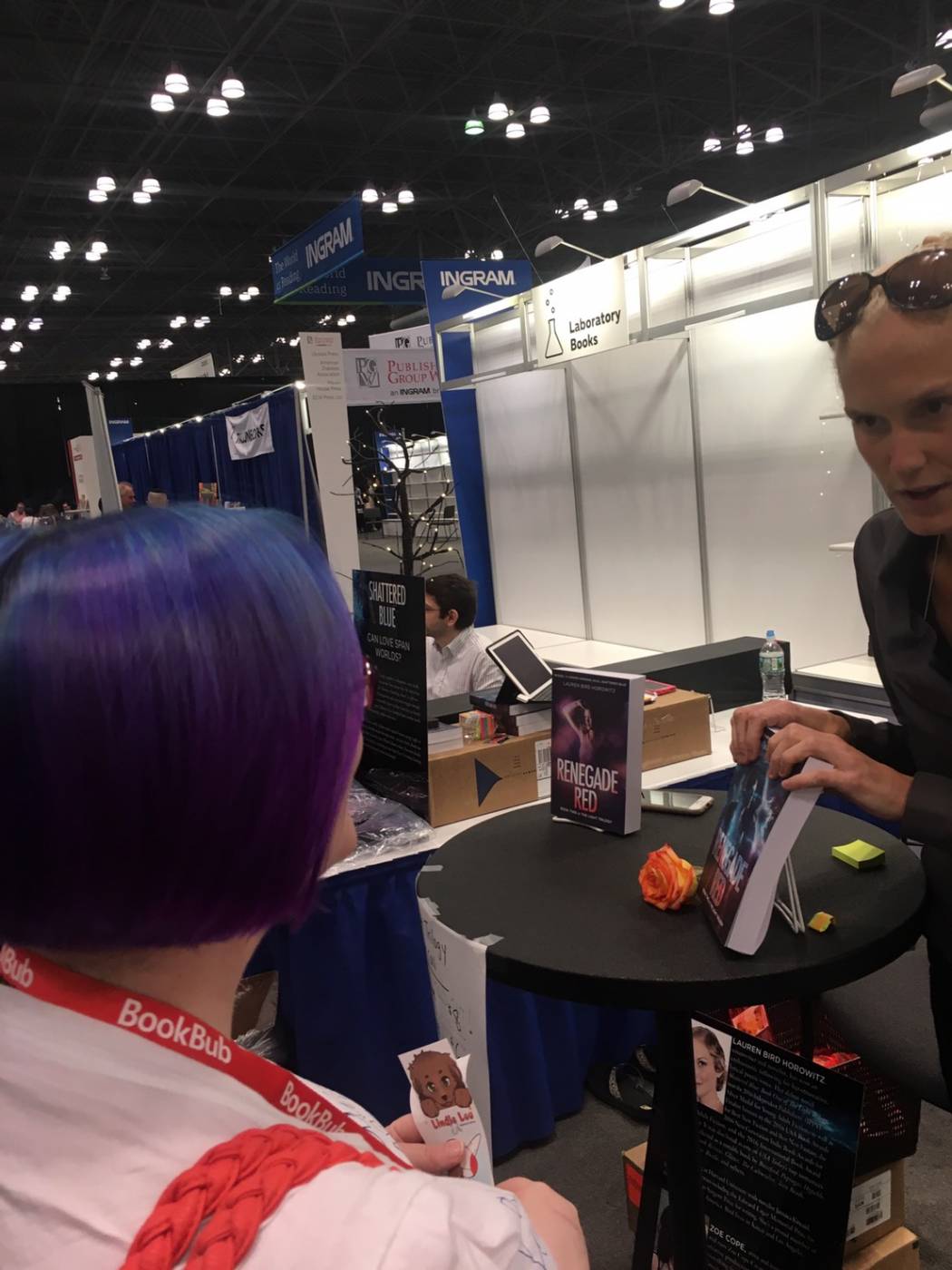 Shattered Blue hair! Amanda @pbrbtmgn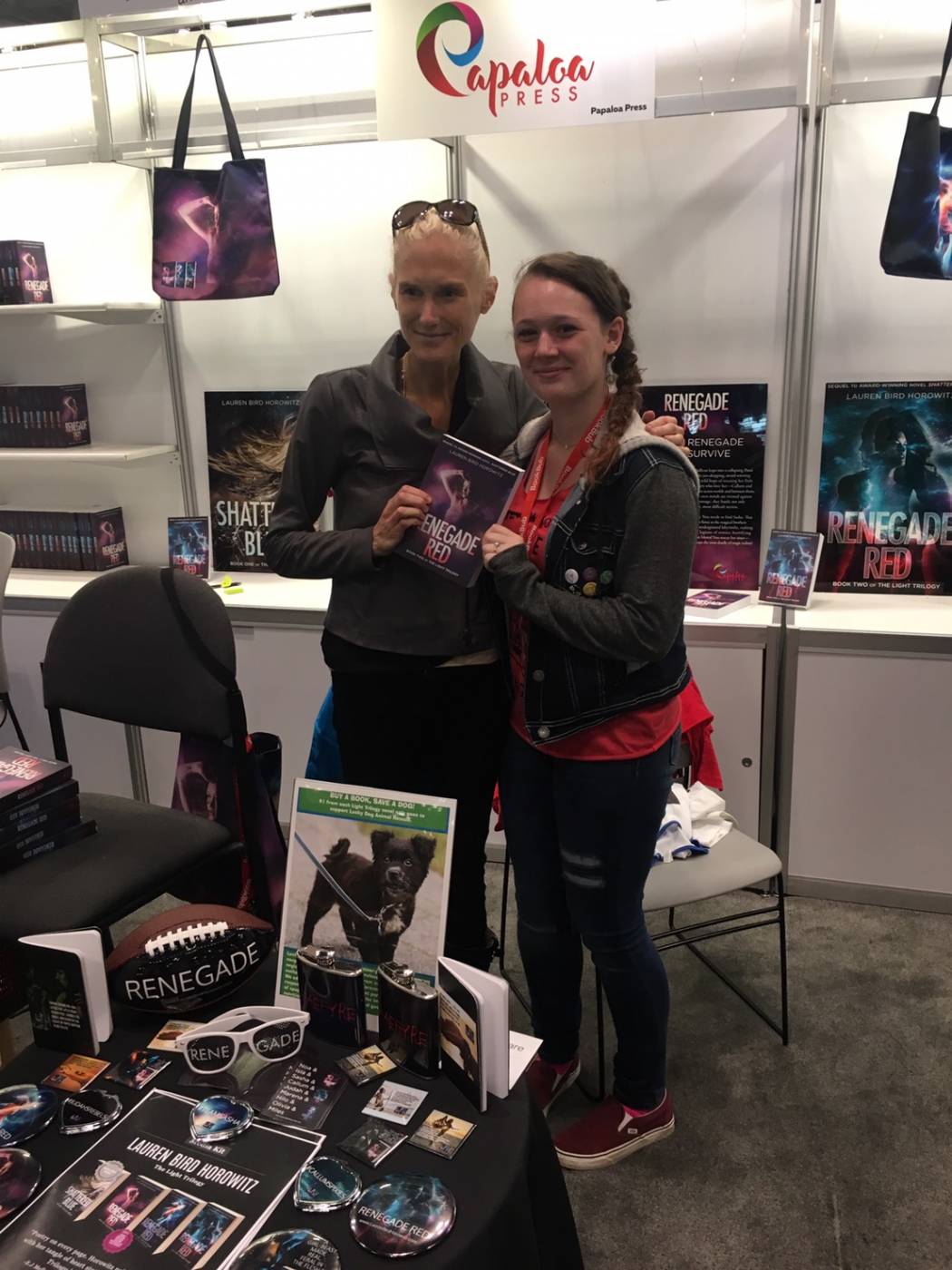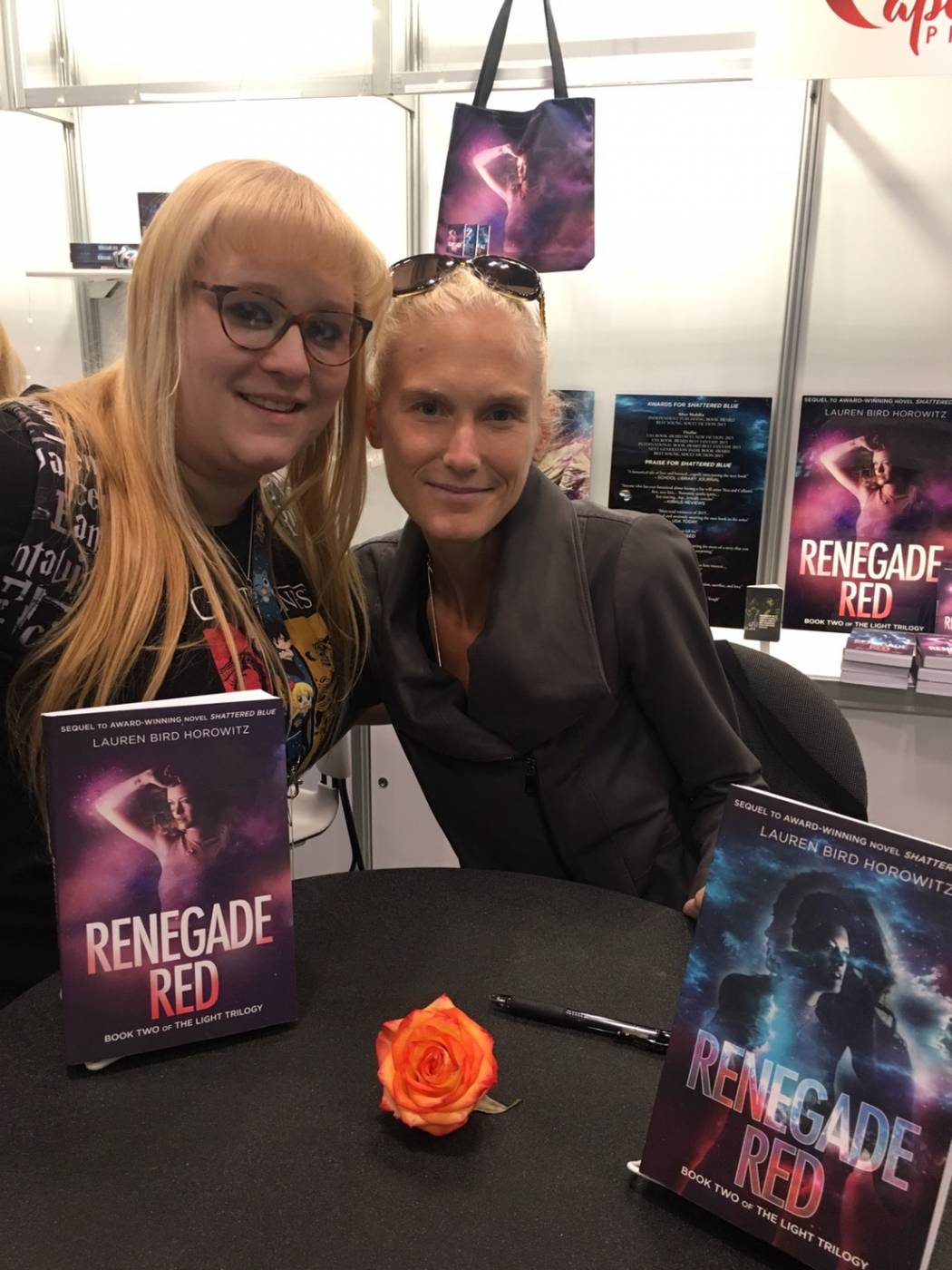 @siriuslyjenn_ from Staten Island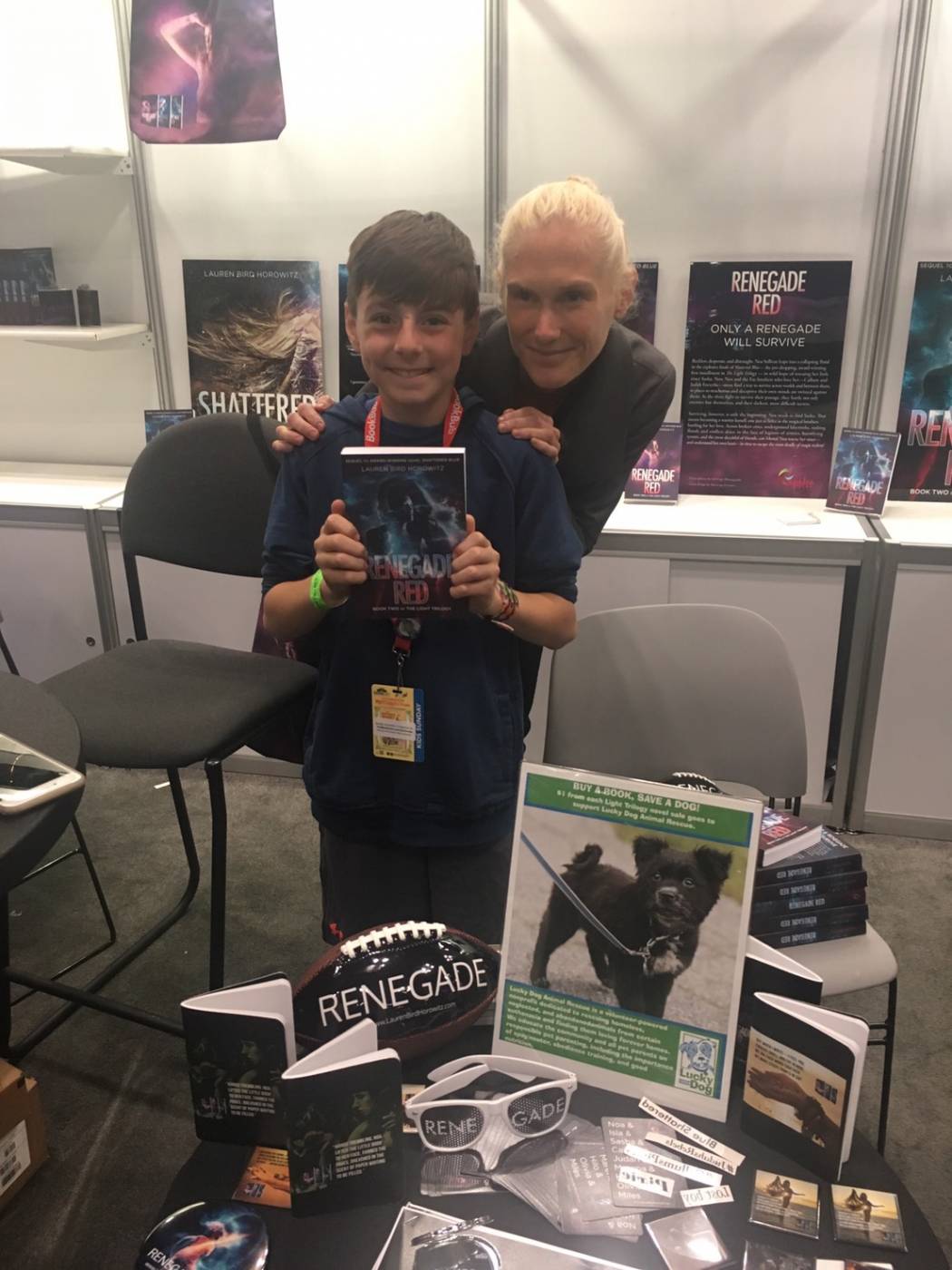 This is Robert! 6th grader from Lynnbrook NY @robertm1027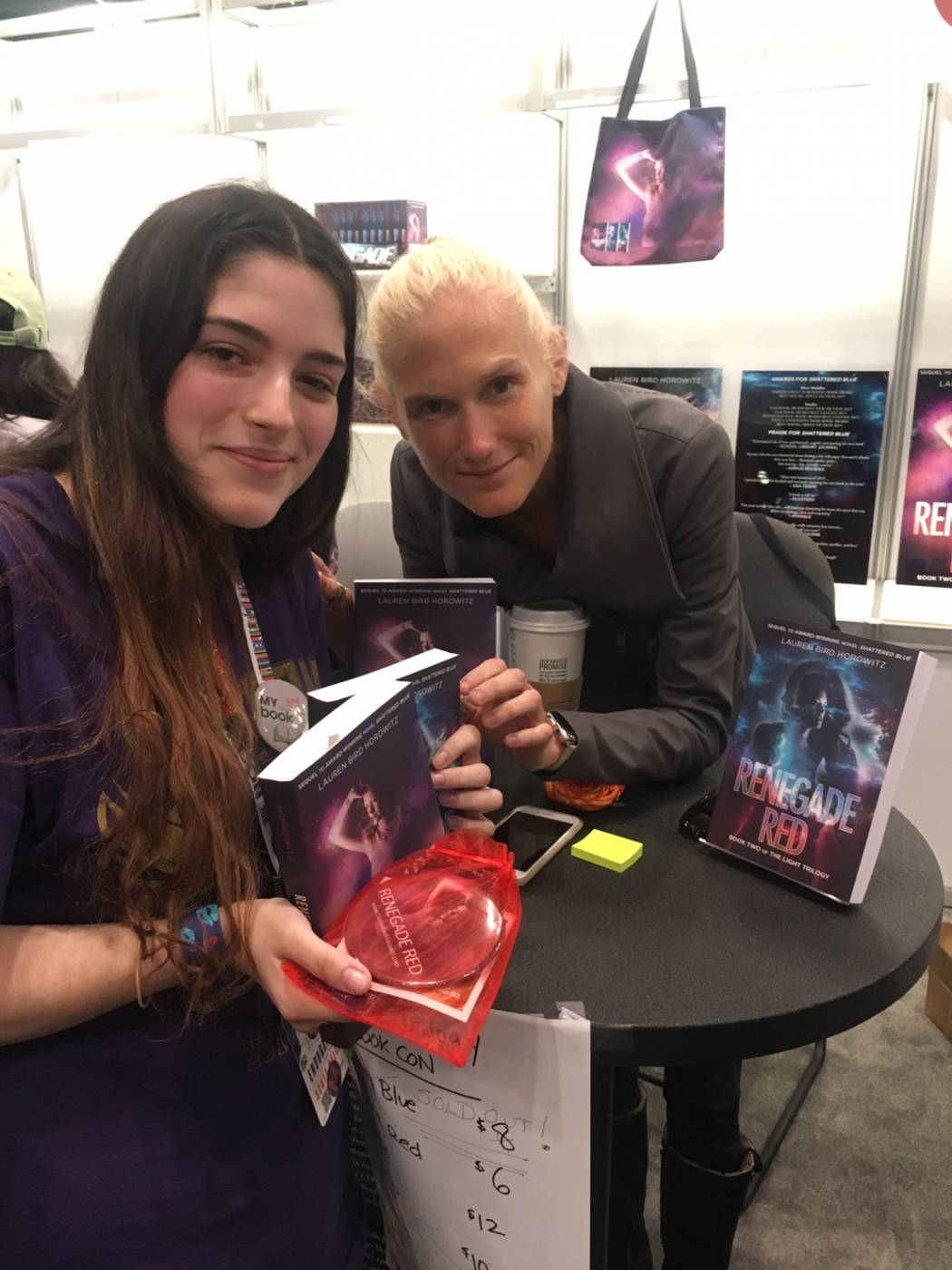 Dominique – huge super fan!!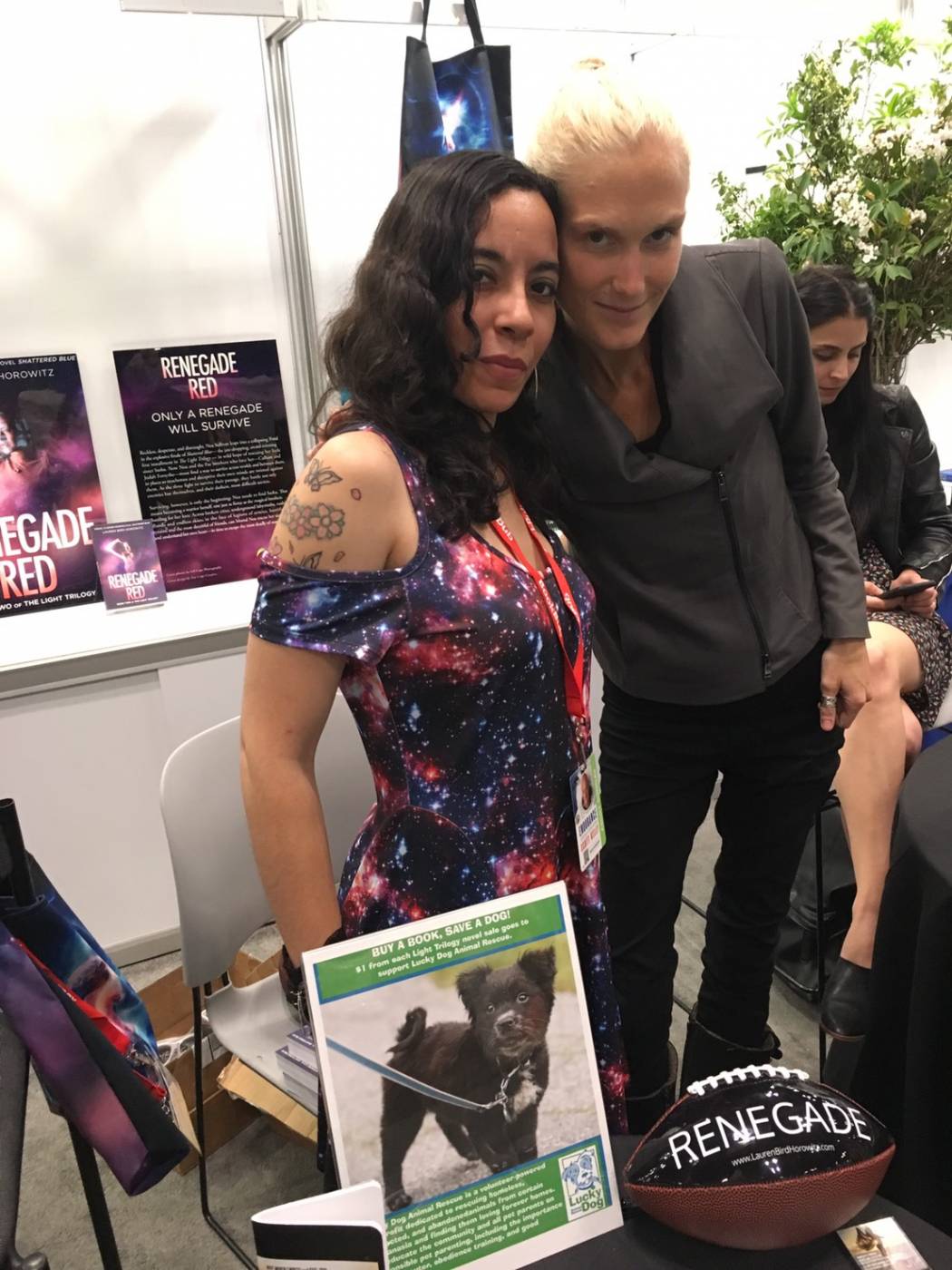 Awesome Aurora galaxy dress! Tatiana – @allthatstarkdraws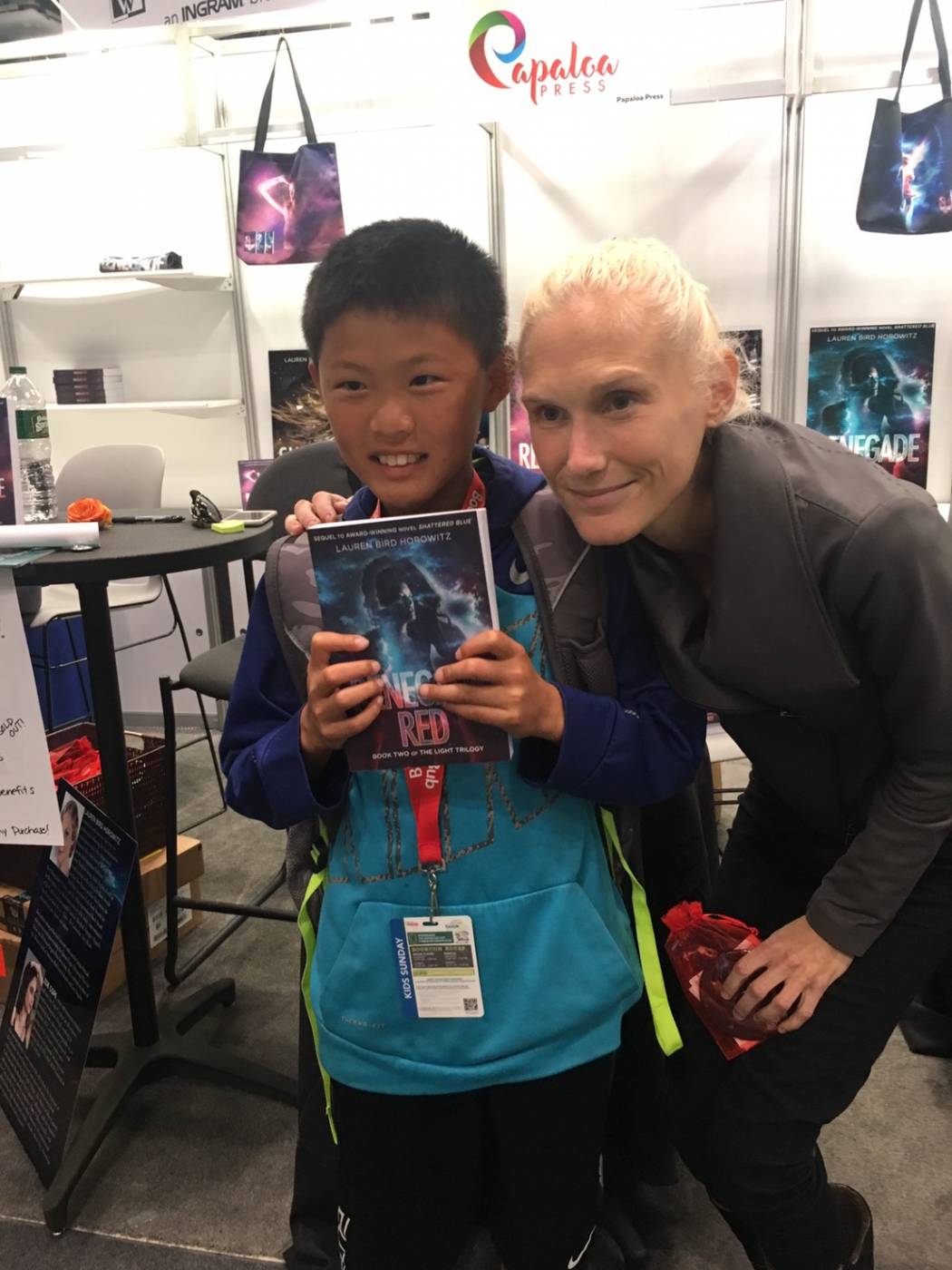 Allen just got the last copy of the Warrior cover!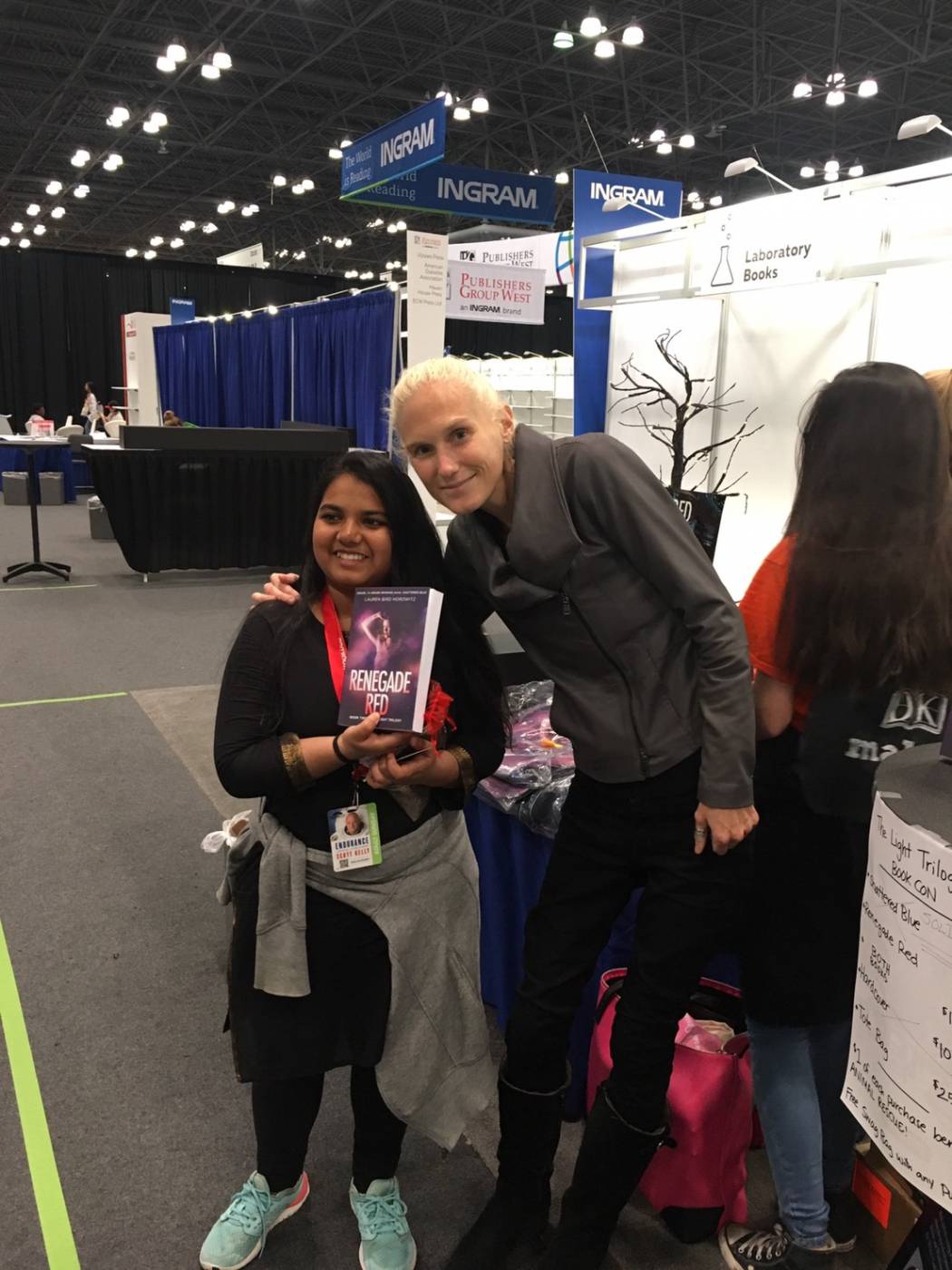 @mora_pria moved from India 3 yrs ago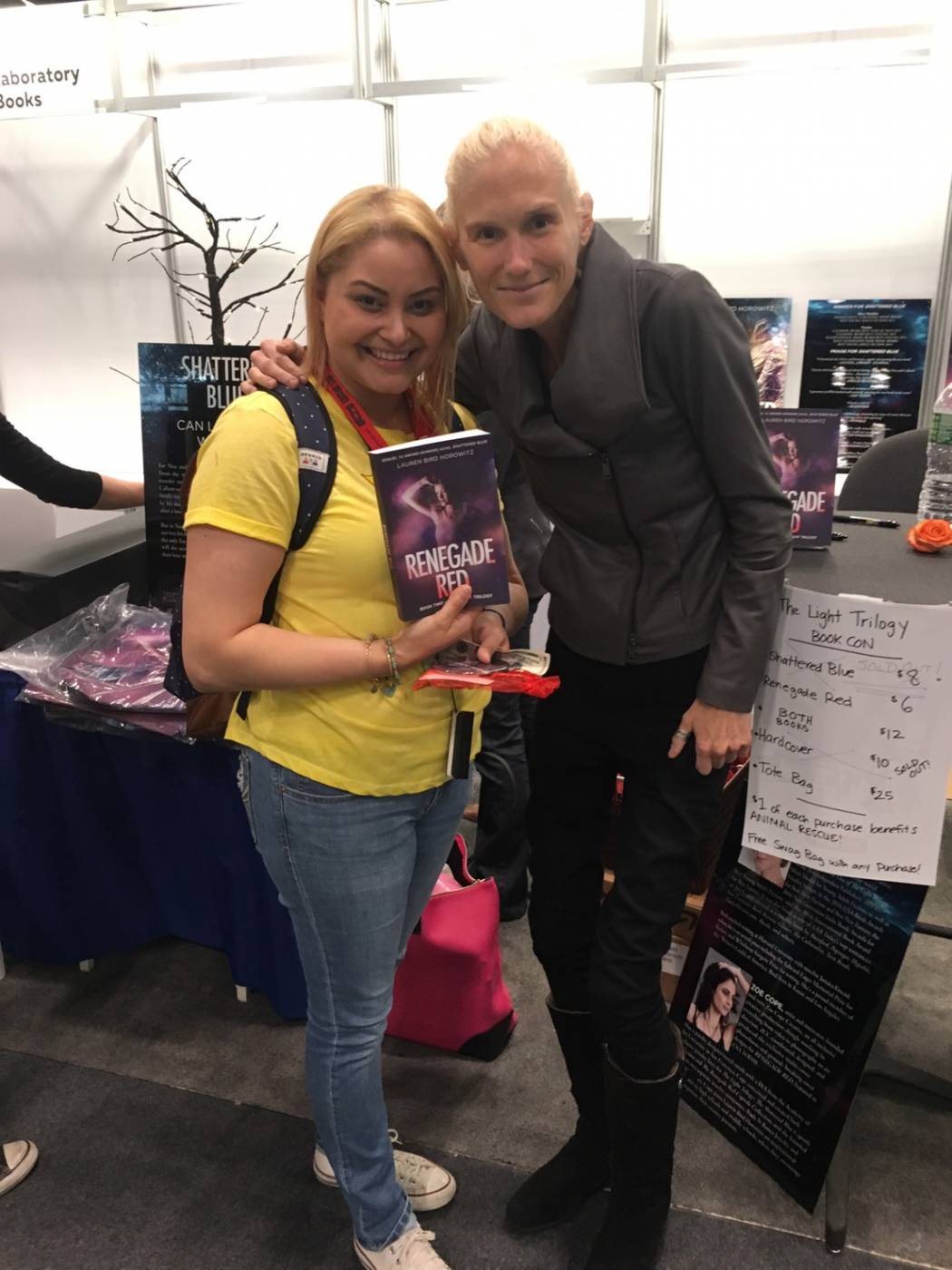 Jennifer – @jennifercnegron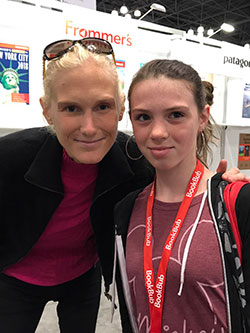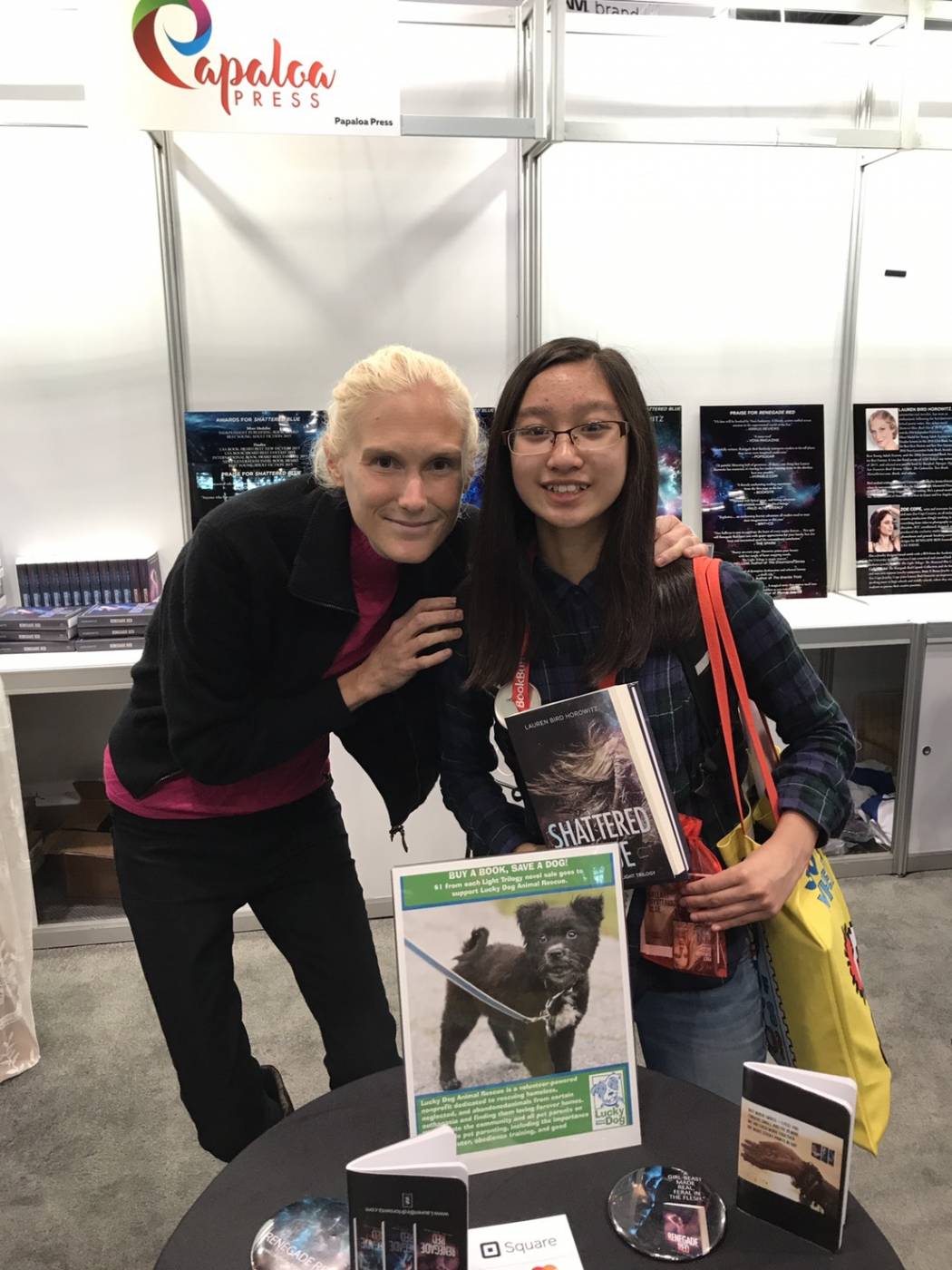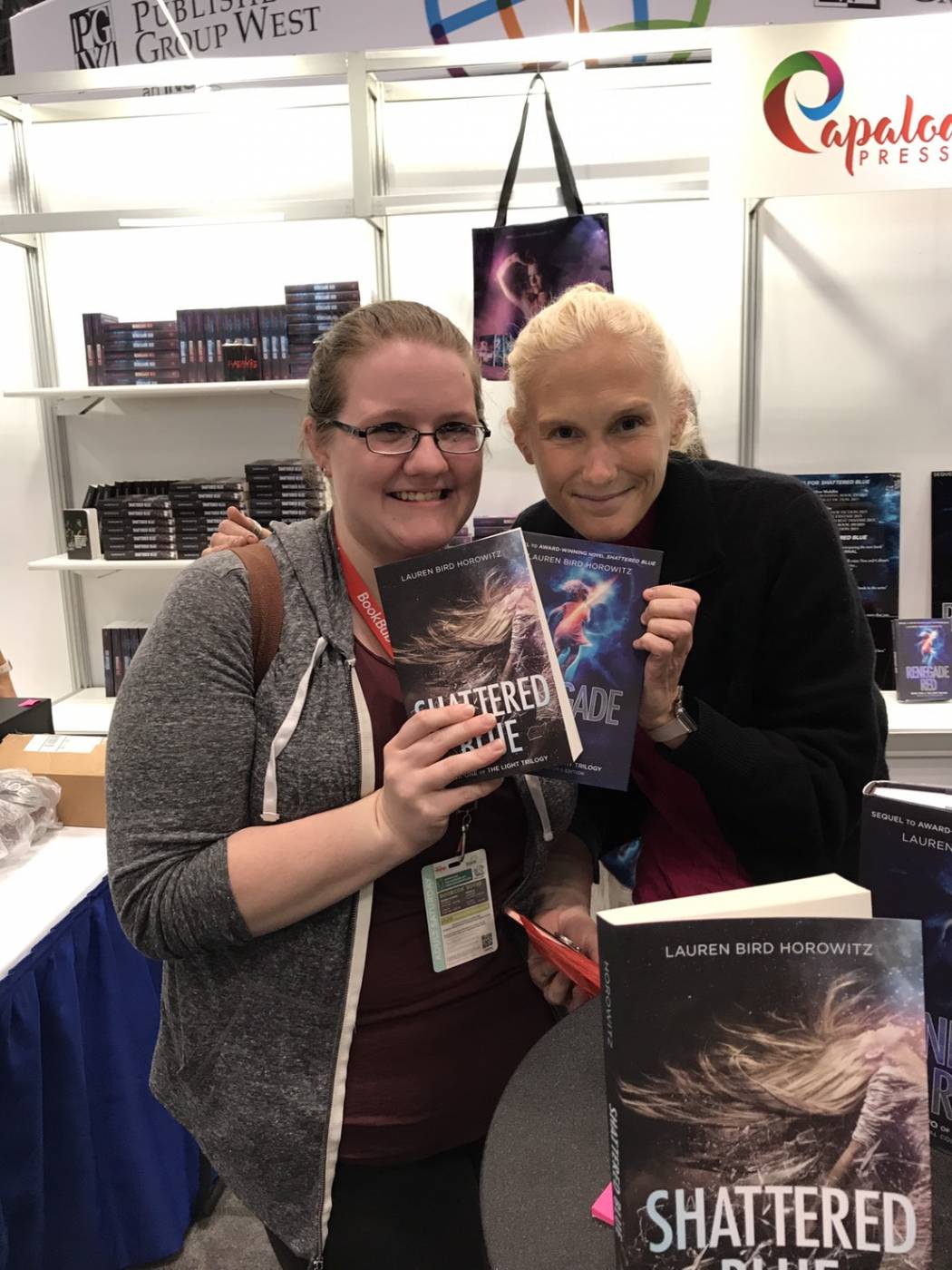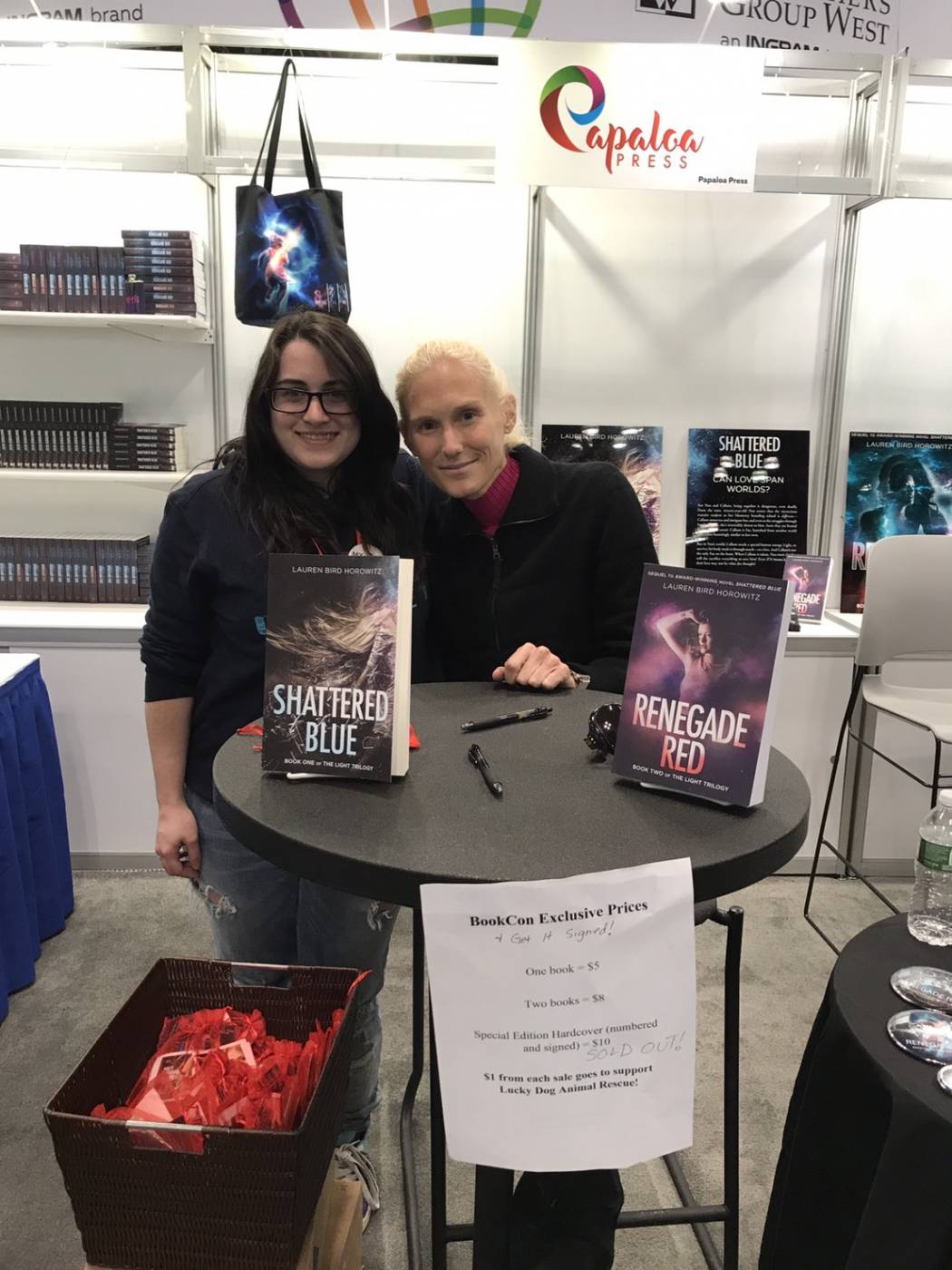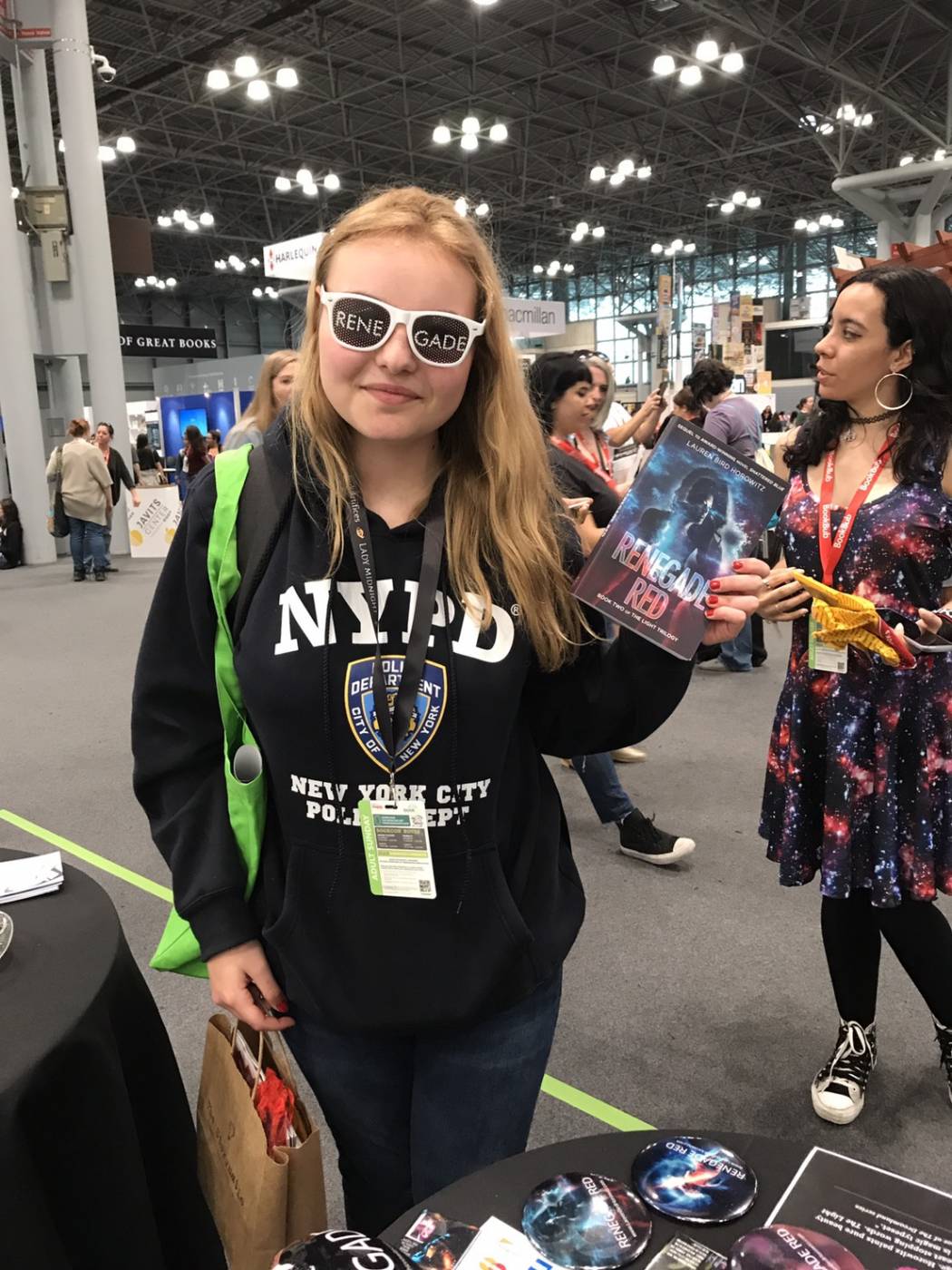 Don't forget to send in YOUR pictures with your new books to add to our Light Trilogy map! I'll repost you on social to celebrate you! Check out our full growing map here, where you can see all of the cities and places the book and readers have traveled!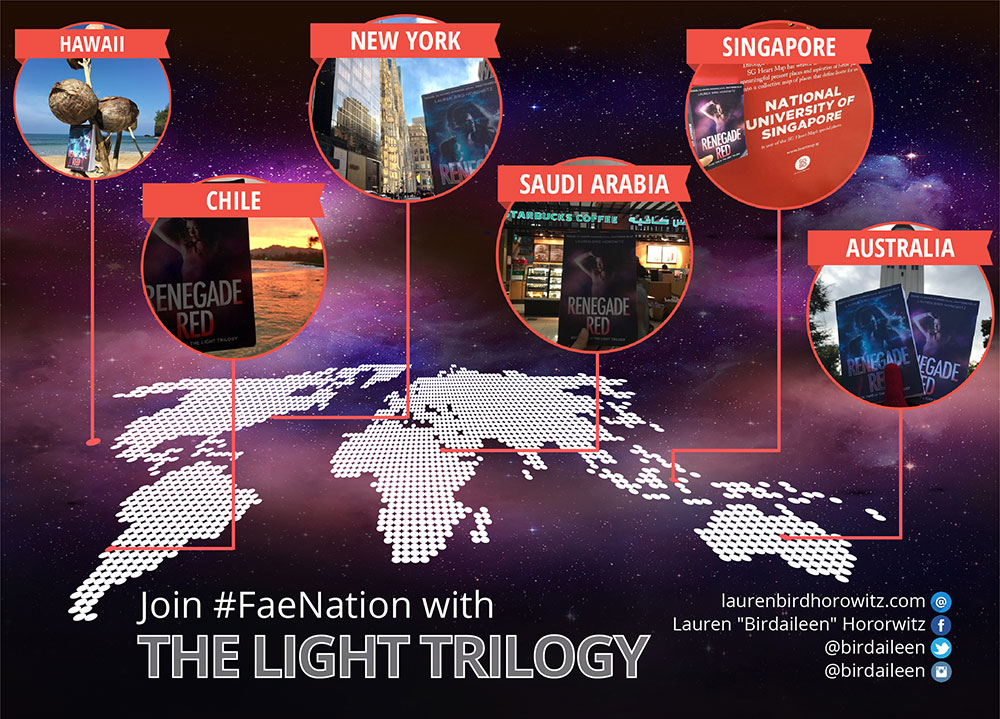 FICTIONIST MAGAZINE: GO LIGHT TRILOGY, GO!
Check out my
interview
with Jackie Peterson from Fictionist Magazine, who swung by our booth at BookCon!
Spotlight on: Lauren Bird Horowitz and 'The Light Trilogy'
Amid all of the gigantic publisher booths at BookCon, there are some smaller publishers and authors doing their best to be noticed by con-goers. It's a hard job, with Penguin Random House, Macmillan and HarperCollins all in the same room and constantly giving away free books.
So you might have been as surprised as I was to find Lauren Bird Horowitz (and company) happily sitting in their booth, down to their last five copies of book two (Renegade Red) of The Light Trilogy. It's less surprising when you hear Horowitz talk to readers, though. Every time someone would glance over, she would jump seamlessly into 'author mode.'
"Hello! Do you like YA fantasy?" She would ask, always excited. "This is The Light Trilogy, and I'm the author!"
Horowitz would go on to explain the plot of the book as if she had never explained it before — excited, voice inflections in all the right places, talking about characters and plot twists ("I can personally, as the author, guarantee you won't see it coming!").
Not surprisingly, many people got excited about The Light Trilogy. Four or five con-goers bought her books just during a 10-15 minute interview, and that was at the very end of the con, when less people were milling around.
In fact, Horowitz and her team got moved out of their original booth because they had too much traffic. "We actually started out at a different booth," Horowitz explained. "But we were doing so well that the guy — the convention coordinator — said, 'I'm going to move you front-and-center.'"
The shiny jewelry display, designed by Zoe Cope specifically for the book series, didn't hurt. Cope creates each piece by hand, and she worked with Horowitz to create a jewelry line directly inspired by pieces described in The Light Trilogy. Cope is also Horowitz's cover designer.
The first book of The Light Trilogy, called Shattered Blue, came out in 2015. Renegade Red was released in March of 2017, and is already in its second printing. There's not currently a release date set for the third book, but it will be released in the next year or year and a half, Horowitz said.
Horowitz was nice enough to set aside a few minutes to chat with Fictionist, with a few pauses in between to talk to readers. Read on to see our short Q&A, and stay tuned for a full-length Q&A with Horowitz and Cope.
Were you here for BookExpo as well, or just BookCon?
We were here for both. I have to say, BookCon is more fun — there's a much bigger YA and book blogging crowd, which is more up our alley for (The Light Trilogy). We sold out of the first book in one hour (Sunday morning) and sold out of all of the hardcovers (Saturday). We're down to our last copies of the second book, so it's been a lot of fun.
When did you decide to get into writing fiction?
I was working in screenwriting, and mostly in the YA space — I did a lot of stuff for The CW, which is a similar audience (to YA books) — but my heart has always felt like a poet, so what I wanted to do was write a novel about a girl who was a poet. That's where the touchstone for Noa (The Light Trilogy's main character) came out as. So, I decided I didn't want to deal with the constraints of being a screenwriter. I wanted to be able to write as many words as I wanted, so that's why I decided to do it as a novel series. And, luckily, because of my contacts in screenwriting, it was actually published through Warner Bros.
Have you done many signing events (other than BookCon)?
I do a lot of signing events on my book tours. We also go to schools a lot and talk to kids about becoming artists, which is fun. But this is my first convention of any kind. One of the coolest things that's happened (at a signing) was that, in one of the school events we went to, we came back and all of the kids had read the first book. That was actually a middle school.
Do you have a convention pet-peeve?
Not yet, I mean, so far it's been really fun. I've enjoyed it. We actually started out at a different booth, but we were doing so well that the guy — the convention coordinator — said, "I'm going to move you front-and-center." So, he moved us here. It was pretty awesome. He was like, "Dude, you have so much traffic, bring it over here!"
LIGHT TRILOGY IN THE MEDIA, AND LAUREN BIRD HOROWITZ'S RECENT ARTICLES
And while we're at it, check out these recent articles I've written, as well as some of the killer press the newest installment of the series, Renegade Red, has been racking up!
Lauren Bird Horowitz's articles:
Renegade Red's recent press:
AUDIOBOOK DEBUT, MONTHLY GIVEAWAYS, AND THE #FAENATION WORLD
For all of our newest pixies and fae, be sure to stop by LaurenBirdHorowitz.com and sign up for The Light Letter to join in our monthly giveaways! This month, we are giving away the first copy of the Renegade Red audiobook (recorded by me!) as well as Bang&Olufson noise canceling headphones, which retail for $200. We do something fun every month, so make sure you take your chance! Entries usually only require a post to social media or two, and there are so many chances to win!
We do something fun every month, so make sure you take your chance!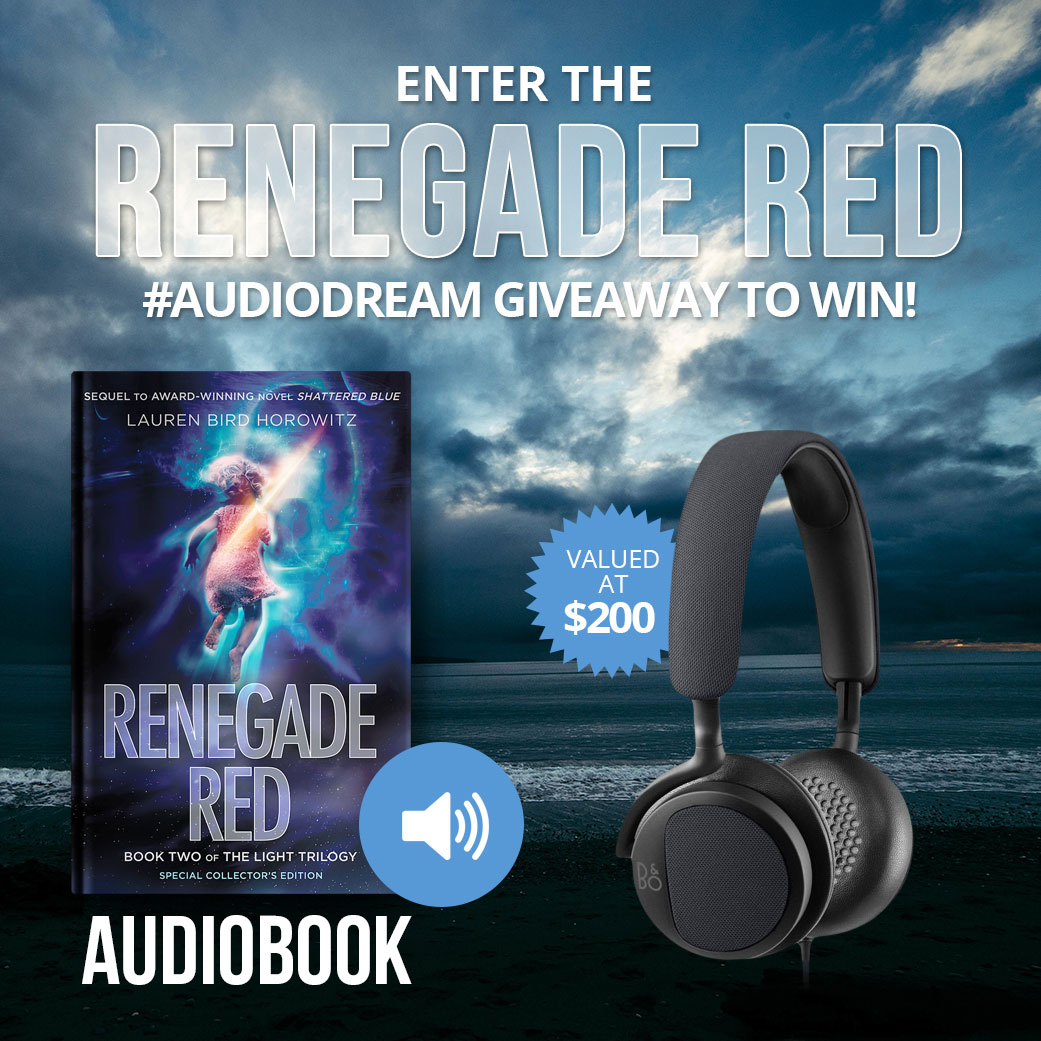 A great way to gain entries into the monthly giveaway is to send me your #FaeNation pictures—you and your book. Simply snap a pic of you and your copy of Shattered Blue or Renegade Red, then send it to me thelighttrilogy@yahoo.com, or add it to our map, or post it to social media and tag me (@birdaileen), and you get another chance to win! I'll also repost you, because I love showing my fae and pixies all around the world. We're almost on every continent!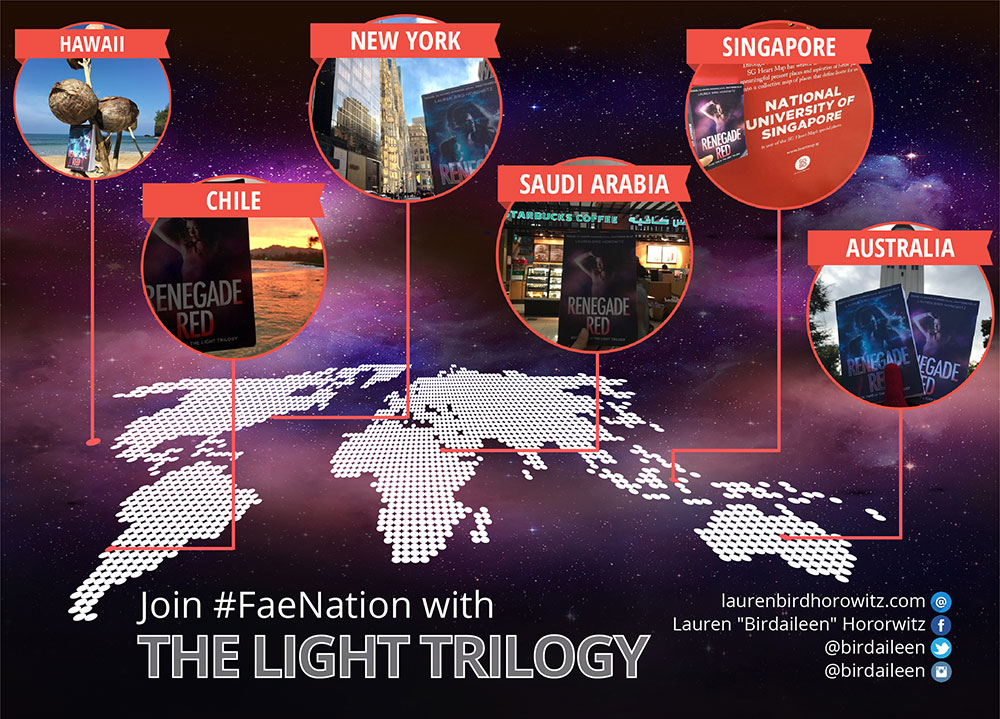 ADD YOUR LIGHT TRILOGY REVIEW!
Finally, I'd absolutely
love
to hear what you think of
Shattered Blue, Renegade Red,
and beyond.  Reviews are incredibly helpful to indie authors like me, and they help new readers decide whether or not to give a book a try! You can leave them in a variety of places:
Amazon:
SHATTERED BLUE, RENEGADE RED
Barnes and Noble online: 
SHATTERED BLUE, RENEGADE RED
Goodreads.com: 
SHATTERED BLUE, RENEGADE RED
On my site: 
SHATTERED BLUE, RENEGADE RED
I also love seeing all your book blogging sites if you have them, so be sure to send me an
email
or tag me on social when your reviews go live!
Phew! That was a lot! Thank you all so much for making #BookCon2017 such a stellar success. Whether from home, on social, or in the Con itself, each an every one of you sent me and The Light Trilogy team so much love and excitement. It was amazing!
XOXO,

ABOUT THE LIGHT TRILOGY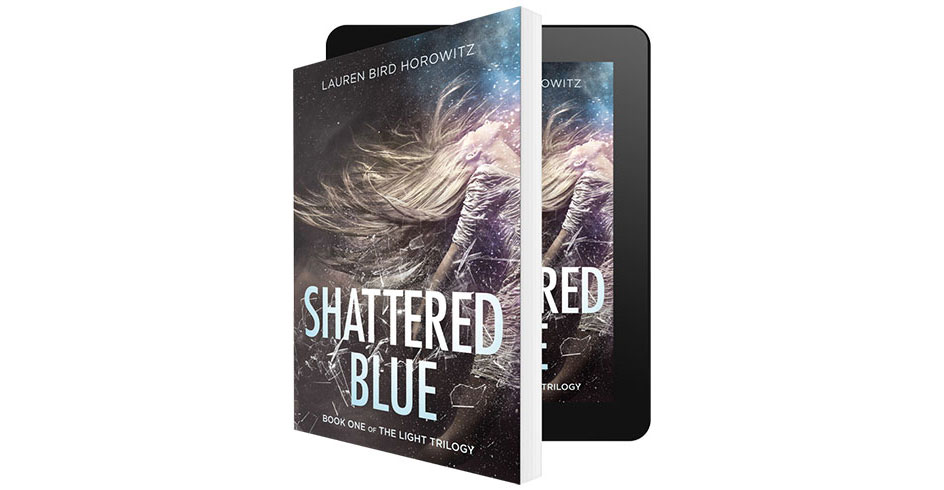 SHATTERED BLUE
BOOK ONE of THE LIGHT TRILOGY
Can love span worlds? For Noa and Callum, being together is dangerous, even deadly. From the start, 16-year-old Noa senses that the mysterious transfer student to her Monterey boarding school is different— Callum unnerves and intrigues her, and even as she struggles through family tragedy, she's irresistibly drawn to him. Soon they are bound by his deepest secret: Callum is Fae, banished from another world after a loss hauntingly similar to her own.
But in Noa's world, Callum needs a special human energy, Light, to survive; his body steals it through touch— or a kiss. And Callum's not the only Fae on the hunt. When Callum is taken, Noa must decide: will she sacrifice everything to save him? Even if it means learning their love may not be what she thought?
Awards & Honors
2016 International Book Awards – Award-Winning Finalist in the Fiction: Fantasy Category
2016 Next Generation Indie Book Awards – Finalist Young Adult Category
2016 IPPY Award – Silver in Young Adult Fiction
USA Book Award – Finalist for Best New Fiction
USA Book Award – Finalist for Best Fantasy
In The Media
"A fresh tale of human light and Fae desire, with a quick plot that counteracts its weighty back story."
"part science fiction and part fantasy and a love story you won't soon forget"